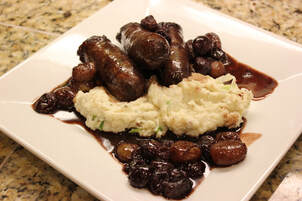 Roasted Italian Venison Sausages with Grapes and Balsamic Vinegar and Spring Onion Mashed Potatoes
by Bobbie Jo
Wasilko
He Hunts She Cooks
The key to making this dish really amazing relies on using the best balsamic vinegar available. I always use Bistro Blends Heirloom
​Balsamic Vinegar http://www.bistroblends.com
Sausage Ingredients
1-1/2 pounds (3 links) **hot Italian venison sausage links
1-1/2 pounds (3 links) sweet or mild Italian venison sausage links
3 Tablespoons unsalted butter
2-1/2 pounds red and/or green seedless grapes, stemmed (6 to 7 cups)
1/3 cup Bistro Blends Heirloom Balsamic vinegar (could also add a 1/4 cup port wine or pomegranate molasses with the vinegar).
Spring Onion Mashed Potatoes Ingredients
4 Medium sized Russet Potatoes
2 Heaping Tbs. Minced Garlic (about 2 cloves)
1 Stick of Sweet Cream Butter
1/3 cup Heavy Cream
3 Spring Onions, minced, including green and white parts
Kosher Salt and Fresh Ground Pepper
Directions
Preheat the oven to 400 degrees F. Bring a large pot of water to a medium simmer.
Prick the sausages with the tip of a knife or a metal skewer and add them to the water.
Simmer the sausages gently for 8 minutes, then drain them and set aside.
Melt the butter in a large roasting pan over low heat. Add the grapes to the pan and toss to coat them with the butter. With tongs transfer the parboiled sausages to the pan and push them down into the grapes so that the sausages will not brown too quickly.
Roast the sausages and grapes in the preheated oven, turning the sausages once, until the grapes are soft and the sausages have browned, 20 to 25 minutes. With a slotted spoon, transfer the sausages only to a serving platter.
Place the roasting pan on top of the stove over a medium-high heat and add the balsamic vinegar to the grapes. Stir to scrape up the browned bits on the bottom of the pan and cook on high heat until the vinegar and juices until they are thick and syrupy, about 2 minutes.
Pour the sauce over the sausages and grapes and serve immediately, accompanied with mashed potatoes.
**Use moderate to hot Italian sausages, as their fennel and garlic flavors are essential to this dish.
Directions for Spring Onion Mashed Potatoes
Peel and cube the potatoes and add them to a pot with water and 1 tbs. kosher salt and boil until just fork tender.
While the potatoes are cooking, add the stick of butter, minced garlic and cream to a large coffee mug or microwave safe measuring cup. Warm for only 30 seconds on high in the microwave (you just want to warm the butter and cream slightly). Remove the mug and place near the stove to continue to steep the garlic. Or you can place the ingredients in a small pot and turn the burner to the lowest setting while the potatoes boil.
Drain the potatoes and pour the warm butter, garlic cream mixture over top and mash. Add the spring onions and mix another minute. Season to taste with salt and pepper.
Serve with Venison Sausages and pour some balsamic syrup over top.