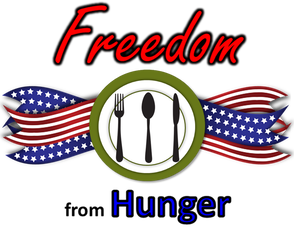 Freedom from Hunger in the USA
Our nation cherishes God-given freedoms and defends them with strength, courage and perseverance.
Together let's help more people experience freedom from hunger!
FHFH was founded twenty three years ago by Rick Wilson after he stopped near a gravel farm lane in Virginia to help a woman load a deer into the trunk of her car and learned she was using the deer to feed her hungry children. Since it's founding in 1997, FHFH has provided over 20.9 million servings of meat for people in need.

The number of people struggling with hunger in the United States has increased due to the economic consequences of the COVID-19 pandemic and there is no community that hasn't been affected. In 2018 there were 37,227,000 people in our country experiencing food insecurity. In 2020 the number of people facing food insecurity may have increased to 54 million because of the coronavirus.
The impact of childhood hunger can be lifelong. Studies have shown that even mildly undernourished children may potentially suffer abnormal brain, cognitive, and psychological impairment that, if not corrected, can be irreversible. The elderly require greater consideration towards their health and medical needs that can become compromised when there is not enough food to eat.
When people don't have enough money to buy food they often rely on food banks, food pantries and feeding ministries. Even before the COVID-19 pandemic food banks, food pantries and feeding ministries often listed their top donation need as protein.

FHFH helps solve the need for protein by paying the meat processing costs for deer or livestock donated to FHFH's participating meat processors. The processed meat is packaged and distributed at no charge to food banks, food pantries and feeding ministries to help people who don't have enough food for their families.

Thank you for your continued interest in our mission of feeding the hungry. Until there is no more hunger, FHFH will continue our efforts to achieve freedom from hunger for the people in our country!

May God bless you today,
​

​
Josh Wilson
Executive Director