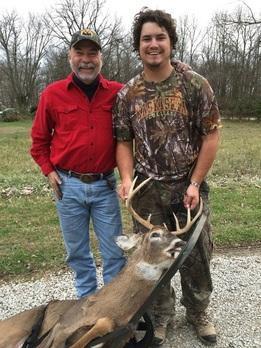 Ian Munnoch, Coordinator for Monroe County FHFH, stands to the left of Joe Crider with his first buck.
Joe Crider took up hunting this year. After completing the Hunters Education Course offered by the Indiana DNR, taking a class in shotgun safety and after spending time setting up stands, walking property and learning as much as he could about hunting, he set up to harvest an animal with the intent to donate the animal to help feed those here in Monroe county.
Congratulations Joe, on a very nice first buck and for the donation. And those 200 people who will benefit from the meals of high quality venison thank you as well.