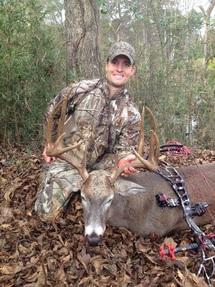 Deer and Dollars Desperately Needed to Help Feed the Hungry
Hagerstown, MD
–
Farmers and Hunters Feeding the Hungry
(FHFH) is reminding hunters that their deer donations are desperately needed to provide nutritious meat to the hungry and homeless this winter. With deer season either underway or about to begin in most states, the best opportunity for hunters to donate either to FHFH or another venison donation program has arrived.
"Most of the meat donated to programs like ours comes during firearms season," said FHFH Executive Director Josh Wilson. "We really need hunters to donate part of their harvest to one of our local FHFH chapters or to another similar program if we aren't operating in their area. Each deer donated can provide meat for 200 meals – enough to make a big difference for the needy of the community."
Hunters are encouraged to visit
www.fhfh.org
to find participating butchers shops where properly tagged, field dressed deer can be donated.
Financial support
is also needed to help pay for the processing and packaging of the meat which is then given free of charge to food banks and ministries that serve the needy.
Currently 49 million Americans struggle to put enough food on the table. Since its inception in 1997, FHFH has provided more than 17 million servings of donated venison and livestock to people in need across the United States. While many people pay extra attention to the issues of hunger and homelessness during the Thanksgiving and Christmas holidays, hunters have the unique opportunity to provide much-needed protein to those who need it the most.
FHFH and the venison donation movement nationwide have enjoyed an extra boost in awareness this year thanks to the
#RAMHuntsHunger
campaign launched this fall in partnership with Ram Trucks.
To help FHFH extend its reach and amplify its mission, Ram Trucks is using its resources and dedication to the outdoors lifestyle to
spread the word
by launching a multimedia campaign across print, television and social media platforms. The ads were created in partnership with Dallas-based The Richards Group.
How The FHFH Mission Works
Hunters and farmers: Hunters in some parts of the country are able to harvest more deer than they can eat or share with their friends and family. In addition, farmers are issued management permits to reduce deer numbers that are damaging their crop yields. Some also have livestock they are willing to donate.
Meat processors: Farmers and hunters are invited to donate their deer, other big game or livestock to inspected, approved meat processors that participate with FHFH.
Financial supporters: Individuals, businesses, churches, clubs and foundations make contributions to FHFH to help cover the costs of processing, packaging and freezing the meat.
Food banks and feeding ministries: This nutritious, low-fat, high-protein meat is then given community agencies such as church pantries, church feeding ministries, the Salvation Army, community food banks, emergency assistance programs, Rescue Missions and children's homes to distribute or serve to their clients.

How You Can Help
Click here to donate financially (tax deductible) to FHFH.
To donate venison or livestock, click here to find a participating meat processor in your state.
To find out how your corporation or organization can become a Partner with FHFH, call (301) 739-3000 or e-mail staff@fhfh.org.
If you wish to volunteer your time working for FHFH, please call us at (301) 739-3000 or email us at staff@fhfh.org.

For more information about FHFH, contact Josh Wilson, Executive Director, at: josh@fhfh.org.
About Farmers And Hunters Feeding The Hungry
Inspired by a passion for the outdoors and compassion for the needy, Farmers and Hunters Feeding the Hungry (FHFH) is committed to addressing America's hunger problem in a unique and relevant way. Established in 1997, FHFH enables hunters and farmers in states nationwide to provide nutritious meat to feed the hungry of their communities.