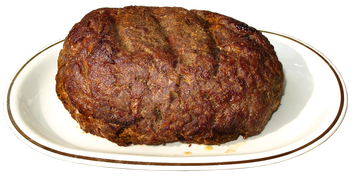 Classic Meatloaf
​Submitted by Lance Johnson, Coordinator for Rutherford County, North Carolina FHFH
​
2 tablespoons unsalted butter

1 1/4 cups onion, finely diced

1 1/4 cups portobello or desired mushrooms, finely chopped

1/2 cup celery, finely diced

1/2 teaspoon dried thyme

1 teaspoon finely chopped garlic

1/2 cup grated carrot

1 cup fresh bread crumbs

1/2 cup half-and-half or milk

2 eggs

1 1/2 pounds ground venison

1/2 pound ground pork or turkey

4 slices bacon, finely chopped

1 3/4 teaspoons kosher salt

1/2 teaspoon freshly ground black pepper

1/2 cup ketchup

2 tablespoons brown sugar

2 teaspoons cider vinegar
Preheat oven to 350 degrees F.
In a large skillet heat butter until melted and foaming. Add onions, mushrooms, and celery. Season to taste with kosher salt and black pepper. Cook 3 minutes, being careful not to brown.
Sprinkle thyme over onion mixture. Rub garlic and pinch of salt into paste; add garlic. Cook and stir until onions are tender and translucent. Stir in grated carrot; remove from heat. Cool completely.
Meanwhile, soak bread crumbs in half-and-half; lightly beat in eggs.
In large mixing bowl combine ground meats, bacon, cooled vegetables, and bread crumb mixture. Sprinkle the 1-3/4 teaspoons salt and the pepper. Using hands, mix until well blended.
Turn mixture into a rectangular baking dish. Using hands, shape into a 9×5-inch loaf. Make shallow indentation around sides.
Combine ketchup, brown sugar, and vinegar. Spoon over top of meat loaf. Bake on middle rack for 1 hour or until meat thermometer reaches 155 degrees F. Let rest 10 minutes before slicing.