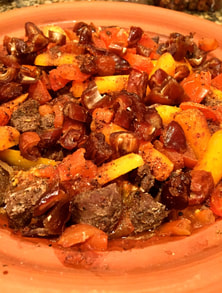 Antelope Tagine with Vegetables and Dates
by Bobbie Jo Wasilko
He Hunts She Cooks
Prep Time: 30 min
Cook Time: 3 hr
Total Time: 3 hr 30 min
Serves 6
The intoxicating smell of Moroccan spices will fill your kitchen with this easy to make dish using a traditional Moroccan Clay *Tagine. But fear not, if you don't have a tagine vessel, a dutch oven will do the trick. The long slow cooking allows the intense spices to mellow and melt into the antelope while the condensation on the sides of the tagine drip back down onto the meat to keep it moist and tender. My Ras el Hanout spice blend contains 28 ingredients, and I've included the list and method for making your own "k'meesa"(aka "secret stash"). But If you're not up to purchasing and creating the spice blend, African, Middle Eastern and other specialty grocery stores will have bags of Ras el Hanout already mixed. Williams-Sonoma has good one too!
Ingredients
1.5 lbs Antelope or Venison Bottom Round
1 Medium Sized Onion
1 Red Bell Pepper
1 Tomato, chopped
3 medium sized Yukon Gold Potatoes
1/2 cup Dried Pitted Chopped Dates
3/4 cup Beef Stock
**2 tbs. Rose Water (careful, a little goes a long way)
2 Tbs. Honey
3 Tbs. Ras el Hanout
***Ras El Hanout spice rub (A combination of whole toasted spices, whole un-toasted spices, and ground spices). If you like to make own spice mixture, follow my instructions OR YOU MAY PURCHASE Ras el Hanout pre-mixed from African, Middle Eastern, specialty grocery stores, or online.
Couscous and Slivered Almonds, for serving if you like.
For Homemade Ras el Hanout
Toasted Whole Spices
3 Tbs. Whole Coriander
16 Green Cardamom
1 Black Cardamom (shelled and reserve the seeds)
1 Red Cardamom (shelled and reserve the seeds)
1 Tbs. Cumin Seed
16 Whole Allspice
1 tsp. Grains of Paradise
1/2 tsp. Fennel Seed
1/4 tsp. Caraway Seed
1/2 Star Anise
2 Long Peppers
8 Whole Cloves
1/2 tsp. Black Peppercorns
Un-Toasted Whole Spices
1-1/4 tsp. Yellow Mustard Seed
1/2 tsp. Brown Mustard Seed
Ground Spices
2 tsp. Ground Cinnamon
1-1/2 tsp. Garlic Powder
1 tsp. Black Garlic Powder
1 tsp. Garam Masala
1 tsp. Ground Chile de Arbol Pepper
1 tsp. Urfa Biber Chili Flakes
1 tsp. Onion Powder
1 tsp. Ground Nutmeg (From freshly ground 1/2 nutmeg pod)
1 tsp. Ground Ginger
1/4 tsp. Ground White Pepper
1/4 tsp. Ground Sumac
1/2 tsp. Citric Acid Powder
2 tbs. Kosher Salt
For the Spice Rub
IF YOU ARE MAKING YOUR OWN RAS EL HANOUT FOLLOW THESE INSTURCTIONS, OTHERWISE, SKIP TO THE INSTRUCTIONS FOR CUTTING THE ANTELOPE.
Shell all the cardamom pods and reserve the seeds. Add all the whole spices and cardamom seeds to a sauté pan. Heat the pan over medium high heat, constantly swirl the spices until they just start smoking and cracking (about 3-4 minutes). Pour the spices onto a plate (don't leave them in the pan, as they will burn). Allow them to cool. Add the whole un-toasted spices, along with the whole toasted spices to a spice grinder (or food processor). Process until a fine ground.
Add all the remaining ground spices.
For the Antelope
Cube the antelope or venison into 1 inch pieces, and sprinkle with about 3 tablespoons of the ras el hanout and kosher salt and stir to coat all the pieces.
Place the meat to a zip lock bag and remove as much air as possible.
Refrigerate, several hours or overnight (I suggest overnight).
Remove the meat from the fridge 1 hour before cooking to bring to room temperature.
Prep the Vegetables
Peel and slice carrot into 1/2 inch thick slices and set aside.
Slice the bell pepper into strips and set aside.
Chop the tomato, set aside.
Cube the potatoes into 1/2 pieces (no need to peel them).
Peel and cut an onion into rings, set aside.
In a cup, mix the beef stock, rose water and honey and set aside.
In a large frying pan, heat a bit of oil, and add the pieces of antelope (or venison) and brown lightly, until all the pieces have been browned, then set aside.
In this order, add to the tagine (or dutch oven).
Coat the bottom of the tagine with a bit of grape seed oil.
Place the onions on the bottom of the tagine.
Add the browned meat on top.
Add another tablespoon ras el hangout over meat.
Pour the mixture of beef stock, honey and rosewater over the meat.
Place the carrots and potatoes on top of the meat.
Then add the chopped tomato.
Cover with the tagine lid and place the tagine in the oven, "cold".
Turn on the oven to 350ºF.
Set a timer for 2 hours.
When the timer goes off, add the sliced bell peppers, and chopped dates.
Cover and set the timer for another 30 minutes.
Once the meat is tender when pierced with a fork, remove the tagine (or dutch oven).
Serve over couscous.
Top with toasted almonds, if desired.
Notes
*If you don't have a Tagine (they range in price from $50 and up, mine was $70) you can substitute a dutch oven.
**Rose Water can be found in Middle-Eastern, Indian grocery stores, and also in liquor stores for use in cocktails.
***If you are truly up to making home-made Ras el Hanout and have the spices available, I've included my recipe…. BUT IF YOU DON'T, 3 tablespoons Ras el Hanout spice rub ready-made from any African or Middle-Eastern grocery store , (Williams-Sonoma has a good one too) will do the job. It won't taste exactly like mine, but it will make it simple (and quite frankly, a less expensive option, since some of these spices can be pricey). Enjoy!!