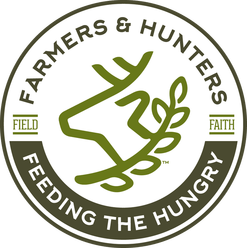 News Release – For Immediate Release
Farmers and Hunters Feeding the Hungry (FHFH) is excited to announce the unveiling of a brand new logo and a redesigned website. Both are part of an ongoing effort to refresh the brand and messaging of the organization for a new generation of hunters nationwide.
"We are excited to share this new logo and website with our volunteers, supporters and friends," said Executive Director Josh Wilson. "FHFH helps hunters address the problem of hunger in America. The new logo and website will help us share this vision with many new people as we invite them to join the cause with us."
The design of the new logo places greater emphasis on the hunger relief aspect FHFH. Hunting and farming are represented by an appealing and distinct graphic suitable for a range of uses from casual to formal. The faith-based aspect of the mission has also been thoughtfully included.
Designed by High Rock Studios in Hagerstown, MD, the new FHFH logo is intended to appeal to a broad audience including men, women and young people.
The FHFH website has undergone a variety of changes and updates in recent months to streamline the content and simplify the navigation. The site has now undergone a facelift to better compliment the design and colors of the new logo.
Inspired by a passion for the outdoors and compassion for the needy, FHFH is committed to addressing the problem of hunger in America. With volunteers serving in 28 states, FHFH supports local feeding programs in a unique and relevant way.
The organization welcomes new supporters and volunteers to join the cause. Those interested in learning more can visit www.fhfh.org, call toll-free 866-438-3434, or email staff@fhfh.org for more information about the ministry. Also be sure to "like" FHFH at www.facebook.com/feedingthehungry.