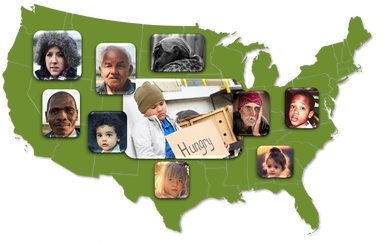 "For I was hungry and you gave me something to eat, I was thirsty and you gave me something to drink, I was a stranger and you invited me in, …."
Matthew 25:35
​
Helping Our Neighbors
During this unprecedented time the number of people struggling with hunger is increasing due to the COVID-19 pandemic.
The already existing millions of people who have struggled with food insecurity are affected as well as additional people who have suffered a loss of income.
Those struggling with hunger include the most vulnerable – children and seniors.
A loss of income could change people's eating patterns, resulting in poorer nutrition. Adequate and balanced nutrition is needed for a well-functioning immune system for everyone and for growth in childre
n.
Protein is a vital component of a balanced diet.
When there is inadequate income to purchase the amount and quality of food for a balanced healthy diet, people often turn to food banks, food pantries and feeding ministries. Unfortunately, food banks, food pantries and other feeding programs often list meat and protein items among their top food donation needs.
Farmers and Hunters Feeding the hungry has provided more than 20.5 MILLION servings of meat to food banks, food pantries and feeding ministries since 1997!
​

The FHFH te
am is a group of compassionate individuals dedicated to helping our neighbors struggling with hunger.
Our team consists of local volunteer chapter coordinators, participating meat processors, hunters and farmers who donate deer and livestock, and generous financial donors.
The financial gifts pay the meat processing fees so there is no cost to the hunter or farmer to donate or to the food banks, food pantries or feeding groups to receive the much needed meat.
In this increasing time of need, please consider helping others who are struggling to get enough to eat.
Donate deer or livestock. CLICK HERE for a list of our participating meat processors.
Make a financial gift. CLICK HERE to make a secure on-line donation. Your donations are tax deductible.
Our hearts and prayers go out for everyone affected by COVID-19. Together, we can help each other get through this difficult time and help ensure people in our communities have enough to eat.

Thank you for your continued interest in our mission of feeding the hungry. ​

Sincerely,

​
Josh Wilson
Executive Director