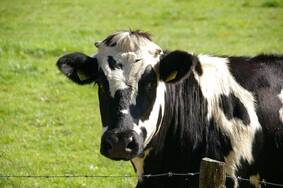 Groups and organizations are uniting to provide food for people in need in Ohio.
Kathi Albertson, Coordinator for Guernsey County FHFH in Ohio, contacted the Guernsey County Farm Bureau for suggestions about how to purchase discounted meat from local farmers.
Guernsey County Farm Bureau board member Garry Burroughs contacted Randy Raber of Red Hill Farm and owner of The Bears Den and 360 Burger. That contact resulted in the donation of a steer to FHFH who will pay the meat processing fee. Meat from the steer will be donated to Grace Food Pantry.
Another Guernsey County Farm Bureau board member donated a hog to FHFH. The meat will be distributed to food banks, food pantries and feeding ministries who serve people in need in Noble County.
The full story published by
The Daily Jeff
on April 21, 2020 can be viewed at
https://www.daily-jeff.com/news/20200421/steer-hog-donations-to-help-feed-community