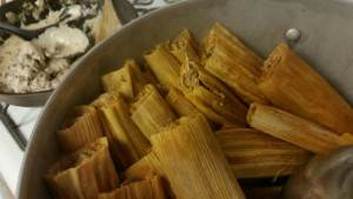 Wild Game Tamales
By Gilbert Loredo
Posted at
He Hunts She Cooks
Prep Time: 2 hr
Cook Time: 4 hr
Total Time: 6 hr
Yields 36
Because this recipe is fairly easy but time consuming, make it a party by inviting friends and relatives to all share in the fun and make a large batch. And remember to taste test quite often. This recipe can be easily modified for added flavors or different types of meat from domestic to wild game!
Ingredients
5 lbs. Prepared masa from local Mexican market
5 lbs of Wild Game Meat from leg or shoulder cut into 2 inch pieces
1 big pack of Corn Husks (16 ounces)
5 Garlic Cloves, minced
1 pack of California Chili Powder (1.5 ounces)
1 pack of New Mexico Chili Powder (1.5 ounces)
1 pack of Cumin (1 ounce)
1 pack Onion Powder (1-1/2 ounces)
1 pack Garlic Powder (1-1/2 ounces)
2 Bay Leaves
1 tbs. Salt
1 tbs. Pepper
Canola Oil for browning meat
4-5 cups Beef Broth (approximate amounts, may need more or less)
1 small can of El Pato Tomato Sauce (7-3/4 ounce)
For the Corn Husks
Soak your husks for a few hours in warm water.
​For the Masa
Remove the prepared masa from the fridge to the counter a couple hours ahead to bring the masa to room temperature (it makes spreading easier if it's room temp).
For the Game Meat Filling
Cut meat in to medium size cubes.
With a large pot, add canola oil to coat the bottom and heat over medium-high heat.
Season game meat with salt and pepper and add, a few at a time to the pot.
Brown meat on all sides.
Once the meat is browned, add the minced garlic and sauté for 1 minute.
Pour beef broth over meat and add the bay leaves.
Turn down the heat to low and simmer the meat for approximately 2+ hours or until the meat is tender (may need more time).
Once the meat is tender, remove the meat and *reserve the broth.
Shred the meat.
To the shredded meat, add the packets of chili powder and 1/2 pack of cumin, 1/2 pack onion powder, 1/2 pack garlic powder and tomato sauce.
Add just enough reserved beef broth to make a stew like thickness.
To Make The Tamales
Remove meat from heat let it cool.
Remove a few corn husks from the water and pat dry.
Layer one or two corn husks together (depending on how thick they are).
Wet a soup spoon and spread approximately 3 tbs. masa on "smooth" side of husks (this will make it easier to remove husk after they are steamed)
Spread the masa through the center and out to about 1/2 inch from the edges of the corn husk.
After you have spread masa on several husks add a couple tablespoons shredded meat on top of the masa (you don't want to overfill your husks (otherwise the filling will squeeze out when they are rolled).
Roll it like a burrito and fold the pointy end on the bottom and leave the top open.
*You can use any extra jucies from your pot and drizzle on top of tamales while they are upright in steamer before steaming.
Once you have your tamales all rolled up use some string or make some ties by pulling apart excess husk and tie bundles of 6 tamales (this will make it easier to stand up in your steamer).
To Steam the Tamales
Fill the bottom of the steamer pot with about 2 inches of water, and bring to boiling.
Stand up the tamales in the steamer basket.
Add the steamer basket filled with tamales into the steamer pot (it's very important to make sure the water level doesn't touch the tamales or they will be soggy).
Cover the pot and turn down heat to a medium boil to create steam.
Steam them for about an hour and a half (maybe less depending on amount you are steaming).
Check the steamer pot from time to time and add water if needed to keep steaming.
**If you have any extra meat and sauce left over serve it on top of tamales after they are done and unwrapped.
Notes
For this recipe, you will need a large stainless steel steamer, approximately 8 inches high, to hold the tamales. Add about 2 inches of water to the bottom of the steamer (you don't want the tamales touching the water or they'll get soggy).
Check the water level from time to time and add water as needed to keep steaming for the 1-1/2 hours.