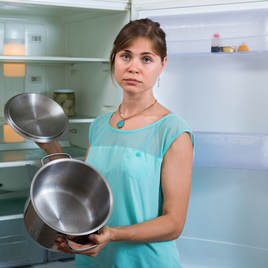 "For I was hungry and you gave me something to eat, I was thirsty and you gave me something to drink, I was a stranger and you invited me in, …." Matthew 25:35
When was the last time you felt real hunger? Not the kind of hunger caused by eating a meal later than planned or even missing a meal occasionally, but the kind of hunger caused by missing two meals a day, not eating at all, or having to "water down" food to make do. One in eight people or in our country experience real hunger every day!

People in our country are struggling every day to get adequate nourishment. Forty-two million people struggle with hunger in the United States, including 13 million children and 5.4 million seniors who don't have enough to eat. (Source: Feeding America). Some people have lost their job(s), some got a pay reduction, some are working two jobs and are still unable to make ends meet, some have large health care expenses, some have lost a loved one reducing their household income, and some are the elderly who have worked hard all their lives, but find their retirement income isn't enough. Any one of us could be in one of these positions and facing not being able to afford an adequate amount of food! What would you do if you had to choose between buying food or paying rent, buying food or paying medical bills, buying food or getting gas to get to work. Who would help you if you could not get enough to eat – family, friends, neighbors? Would someone who doesn't know you help you? How would you feel if no one helped you?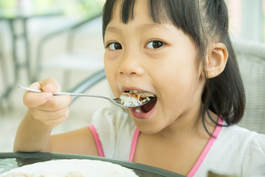 Life can be hard, but when caring people like you help others who are struggling with not having enough to eat it makes their life a little easier and gives them hope to keep going. You may even save a life!
You are showing compassion and giving back. You are being a positive r
ole model for other people. When you encourage empathy at home, you inspire and empower your kids to take action. You are helping to make our world a better place! As a financial supporter of FHFH's mission to feed the hungry, you're the kind of person who cares about others. You are part of a generous and compassionate group of individuals who are doing something about people who are experiencing real hunger!
When you donate to FHFH you make a difference to people struggling with hunger! Here are a few of many stories about how your generous donations help others:
Indiana:
Food Pantry in Cass County, Indiana Blessed to Receive Venison
On behalf of the staff, the volunteers, and especially the clients; we would like to thank Mr. Worman and his crew for their generous donation of venison. The smile on the clients face when they were able to receive "good meat" was contagious to the volunteers and staff. The joy spread amongst everyone. One lady, on a very high protein diet, was almost in tears to see such a generous donation made. She even said it's good people willing to help others that makes this world go round. Personally, this new fight against hunger has been a major success and blessing in the Cass County Community.
Thanks again!
Kayla Escobar, Food Pantry Manager, Indiana
Maryland:
Frederick Community Action Agency (Frederick Food Bank)
Thanks to the tremendous effort of FHFH, the Frederick Community Action Agency was able to provide 800 families a month with fresh meat to feed their families. Our families were especially grateful because we were able to provide healthy meat choice to them daily. We also were able to use some of the venison in our soup kitchen and provide lean, vitamin enriched meat to our homeless in Frederick County who need it the most. We feed anywhere from 80-130 individuals a night in our soup kitchen and with the wide variety of cuts we were able to provide a multitude of meal choices throughout the winter.
Ohio:
Meat for 10,000 Donated by Guernsey County FHFH to Food Pantries in Ohio
Kathi Albertson is Chapter Coordinator for Guernsey County FHFH. Her Chapter donated more than 50 deer during the past hunting season to those in need in Guernsey, Noble and Harrison County in Ohio. The 50 deer provided 2,500 pounds of venison (10,000 servings) to food banks in the area.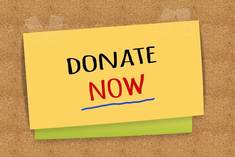 We can't do what we do without your support!
Won't you please co
nsider making a tax deductible financial gift today?
You can be assured your gift is well spent and you'll know you have helped someone who is in need.
​
$10 = meat for 2
0 meals
$25 = meat for 50 meals
$50 = meat for 100 meals
CLICK HERE to make a secure online donation.
You can also mail a donation to Farmers and Hunters Feeding the Hungry at P.O. Box 323, Williamsport, MD
21795. If you'd like to designate your donation for a particular FHFH Chapter, please write the chapter name, code or county in the memo line of the check.
To donate deer or livestock to a participating FHFH meat processor CLICK HERE.
On behalf of FHFH and all those in our country suffering from hunger, we THANK YOU for supporting FHFH's mission of feeding the hungry!
Sincerely,
Josh Wilson
Executive Director
Farmers & Hunters Feeding the Hungry