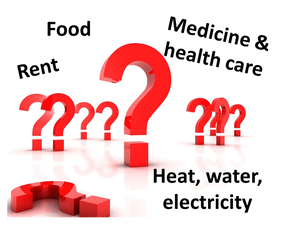 "For I was hungry and you gave me something to eat, I was thirsty and you gave me something to drink, I was a stranger and you invited me in, …."
Matthew 25:35
Which Basic Need Would You Sacrifice?
If you didn't have enough money to pay for all of your basic needs, which would you sacrifice? Would you decide to not buy food or medicine, cut back on health care, not pay for rent, heat, water or electricity? How would you choose knowing that doing without any one of these basic needs would have detrimental consequences?

For millions of people in our country making this difficult decision is a reality! Parents are trying to provide for their families and senior citizens are struggling to survive on limited incomes. They may cut back on food, skip meals, reduce food portions or water down food. Persistent hunger can cause fatigue, trouble concentrating and have a negative impact on their health. This shouldn't be happening and it doesn't have to!

FHFH has been proving nutritious venison and livestock at no cost to food banks, food pantries and feeding ministries in local communities across our nation since 1997. FHFH and the organizations serving people in need can make the difference between someone going hungry or having an adequate amount of food to be healthy and productive.
A priest once told FHFH Founder Rick Wilson, "You're not just feeding hungry people. You're saving people's lives!" The priest explained that his ministry brought people in off the streets on the coldest nights and gave them a warm meal. The support of FHFH helped his ministry and that some of the people would die if they remained out in the cold.

You can help provide food for someone who is hungry and you may even save a life! By donating deer or livestock, or giving a financial gift to FHFH you are helping people in communities across our country who are experiencing difficult circumstances. Together, we can help end hunger and make a better future for everyone!

Thank you for your continued interest in our mission of feeding the hungry.​

Sincerely,

​
​Josh Wilson
Executive Director