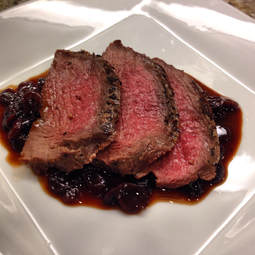 Venison with a Quick Red Wine Pan Sauce
By Bobbie Jo Wasilko
HeHuntsSheCooks.com
No need to sacrifice a great meal when time is limited. This recipe will have you in and out of the kitchen in no time and your stomach satisfied!
​Serves 4
Prep Time: 24 hr
Cook Time: 20 min
​Ingredients
Venison (Substitute Elk, Moose, Antelope) (4 Venison Chops or 2 pound Venison Sirloin, or 2 pound Boneless Loin Roast)
1 cup Red Wine, divided in HALF (Pinot Noir or Cabernet Sauvignon)
1 shallot, minced
2 Cloves Garlic, minced
1/2 cup Dried Fruit (cranberries, cherries, blueberries, apricots, raisins, whatever you have on hand)
1 cup Venison Stock or Beef Stock (I use More Than Gourmet Brand)
2 Tbs Butter
Oil for Searing the Venison (grape seed oil or vegetable oil)
Kosher Salt and Pepper (or Montreal Seasoning)
Instructions
*24 Hours ahead, salt venison OR season with Montreal Seasoning and refrigerate overnight.
Preheat the oven to 375.
In a microwave safe cup, add the dried fruit of your choice and pour a 1/2 cup of the red wine into it.
Microwave the cup for about 40 seconds and set aside (the warm wine will soften the fruit faster).
In a small saucepan, heat a few tablespoons oil and add the minced shallot and garlic, sauté over medium heat.
Add the stock and 1/2 cup red wine to the pot and turn up the heat to medium-high to reduce the liquid.
While the stock is reducing, re-season the venison with more salt and fresh cracked pepper (omit this step if Montreal Seasoning was used).
Heat a cast iron pan with oil, and add the venison, and sear on both sides.
Once the venison is browned on both sides, place the pan in the oven and roast to desired doneness (I suggest no more than medium-rare or 6 minutes for chops, 8-10 minutes for roasts).
Remove the venison to a cutting board and place the pan back to the stove over high heat.
Add the cup of red wine and dried fruit, then add the pot of reduced stock/red wine.
Heat on high for a minute until the sauce thickens.
Turn off heat and whisk in the butter to give the sauce some shine.
Serve the sauce with the venison.
Notes
*Season the Venison 24 hours ahead and wrap in saran wrap or a zip lock bag. Bring to room temp 1 hour before cooking.