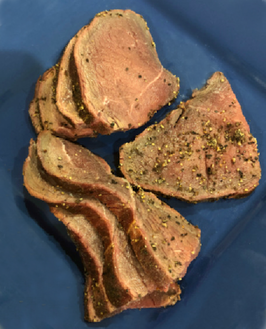 ​Venison Rump Roast "Deli Deer"
Submitted by Brian in Ohio
Remove all fat, silver skin and glands from the meat.
Brine*
1 cup water
1 cup kosher salt
1 cup red wine
1 cup apple cider vinegar
1 cup sugar
1/2 cup Worcestershire
3 tables peppercorns
3 bay leaves
​Rub*
2 tablespoons course black pepper
2 tablespoons kosher salt
1 tablespoon sage
*Depending on size of the roast these measurements may vary
Brine the meat in the refrigerator for 24 hours.

Remove meat and rinse, then rub with coarse black pepper, kosher salt and sage. Wrap and refrigerate 12-24 hours.

Remove wrapping from meat and smoke at 145-180 degrees until meat reaches desired degree of doneness.

Wrap warm in foil and chill until ready to slice.