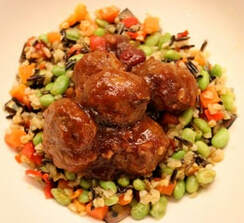 Venison Meatballs with Chili-Cranberry Sauce
By Bobbie Jo Wasilko
He Hunts She Cooks
These meatballs can be frozen in batches and added to a variety of sauces, soups, and stews or serve all of them for a block party! Baking them in the oven on foil lined sheets makes quick cleanup, and large batches can be cooked at the same time, and the meatballs don't fall apart.
Makes: 2 pounds = approx.45 mini meatballs
BASE MEATBALL RECIPE:
2 lb. Ground Venison (or any wild game), keep the ground venison cold!
2 Eggs, lightly beaten
1/2 to 3/4 cup crushed Corn Flakes (adjust based on how the mixture is looking, add if more binder is needed to shape meatballs, otherwise, stick to 1/2 cup)
1/4 cup Italian Seasoned Bread Crumbs (or plain + 2 tablespoons dried parsley and 1 tablespoon dried oregano)
1 tbs. Garlic Powder
1 tbs. Onion Powder
1/3 cup finely minced White or Yellow Onion
4 tbs. Worcestershire Sauce
1 tsp. Kosher Salt
1 tsp. Fresh Ground Black Pepper

Preheat the oven to 350ºF.

Lightly beat the eggs.

Crush corn flakes to medium ground in a sealed zip lock bag

Add all the ingredients to a large bowl and mix.

Using a small ice cream scoop, portion out about 48 meatballs, then roll in between palms to shape.

Line a baking sheets with foil and add meatballs.

Place the baking sheet on the middle rack and bake in the oven for 7 minutes then gently roll meatballs over with a fork and bake for an additional 7 minutes.

Remove and leave on the baking sheets to cool COMPLETELY.

*Freeze in batches in zip lock bags with as much air removed as possible or vacuum bags and use directly from the freezer and place in sauces, soups or stews.


SAUCE: CHILI-CRANBERRY SAUCE:

**About 48 Pre-Cooked Frozen Meatballs

1 can Whole Cranberry Sauce (14 ounce)
1 bottle Chili Sauce
1/3 cup Dried Onion Flakes
1/3 cup Brown Sugar
1/4 cup Ketchup
A splash of Worcestershire Sauce

Preheat the oven to 350ºF

For Oven Baked:
Add all the sauce ingredients and mix thoroughly.
Pour the sauce into a 9×13 glass baking dish.
Add the frozen or fresh meatballs.
Bake, covered for 35 minutes, then remove the covering and bake another 10 minutes.
Serve with steamed rice.

For the Crock-pot:
Add all the ingredients and stir.
Add the meatballs.
Cover and cook on lowest setting for about 90 minutes.
Serve with steamed rice and sautéed green beans or as a pot luck for a large cocktail party.

**When hubby wants to go hunting, I mix all the ingredients, including the frozen meatballs and pour it into a foil pan, and place raw green beans on top. I seal it with aluminum foil. When Hubby comes back to camp at the end of the hunting day, he places the pan in the Camp Chef oven at 300º and allows it to bake while he gets himself cleaned up. Forty-five minutes later, he serves them with 3 cups minute rice… his hunting buddies love it and there is little clean-up and cooking for him to do.