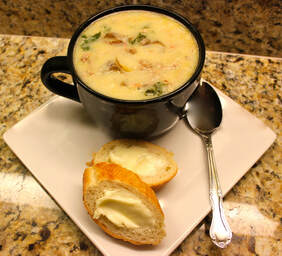 Venison Italian Sausage Potato Kale Soup
by Bobbie Jo Wasilko
He Hunts She Cooks
A wild game version of Olive Garden's zuppa toscana using venison Italian sausage. Just the perfect soup for a cold weather meal. Enjoy!
Ingredients
10 ounces Venison Italian Sausage, casings removed (medium spicy)
1 small onion, diced
2 carrots, diced
1 leek, diced
2 tbs. garlic, minced
1/4 red pepper flakes (omit if you don't want it too spicy)
4 yukon gold potatoes, skin on, cubed
*2 tablespoons medium-grind cornmeal (polenta)
5-6 cups chicken stock
4 cups packed kale, stemmed and coarsely chopped
3/4 cup heavy cream
3/4 cup freshly Grated Parmesan for serving
1/2 tsp. Kosher salt and 1/2 tsp. fresh cracked pepper
4 tbs. Canola Oil
Instructions
Heat the canola oil in a large soup pot over medium heat.
Add the Italian sausage and cook, breaking it up into small pieces until no longer pink, about 5 minutes.
Add the onion, carrot, leeks, garlic, salt, black pepper, and red pepper flakes and cook, stirring often, until the vegetables become softened, about 5 minutes.
Stir in the *cornmeal (don't skip the cornmeal) and potatoes.
Add the stock, stirring, and bring to a boil, then reduce the heat and simmer, covered, for 30 minutes, stirring occasionally.
Stir in kale and heavy cream and simmer for 15 minutes more, or until kale is tender.
Ladle into cappuccino mugs and garnish with grated Parmesan.
Serve with warm bread.​