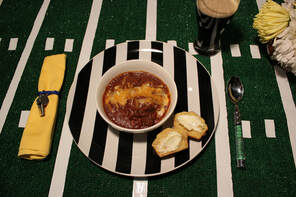 Venison Chili
By Bobbie Jo Wasilko
He Hunts She Cooks
Serves 6
Venison Chili is great for game day or any day! I've created this recipe to be a bit more mild than the "three alarm" type, but you can add as much heat as you like. Make this chili the day ahead and let the flavors really come together for a "winning" combination of spicy, savory, smokey and sweet!
Ingredients
3 lb. Venison Bottom Round (*you can also add 1 pound of ground wild game sausage, if desired)

3/4 pound Bacon, cut into 1 inch pieces (lardons)

1 large Onion, chopped

16 ounces Tomato Sauce

28 ounces, Canned Diced Tomatoes

7 cloves Garlic, minced

1-1/2 cups Beef Stock

1 cup Beer (I used Tecate Mexican Beer)
Dump #1: Mix
2 tbs. Onion Powder

2 tbs. Dried Oregano

2 tsp. Kosher Salt

1 tsp. Black Pepper

1-1/2 tsp. Smoked Paprika

1-1/2 tsp. Pasilla Chili Powder

1-1/2 tsp. California Chili Powder

1-1/2 tsp. Cayenne Chili Powder
Dump #2: Mix
7 Tbs. Prepared Dona Maria brand Mole, from an 8 ounce jar (substitute 6 ounces 70% dark chocolate)

4 Tbs. Brown Sugar

3/4 tsp. Ground Cumin
Instructions
Bring the Venison to room temperature, 1 hour before cooking.
Cut the venison into 1 inch cubes, and season with salt and pepper, and set aside.
Cut bacon into 1 inch pieces (lardons) and sauté in a large pot until crispy.
Remove the bacon to a plate and leave the drippings in the pot.
Add the cubed venison, a few at a time, and brown over medium-high heat.
Once all the venison is browned, remove it to a bowl.
Add the chopped onion and garlic to the pot and sauté over medium-heat for 3 minutes.
Add the browned venison, bacon lardons, tomato sauce, diced tomatoes, beef stock, beer and spice dump #1 to the pot and give it a stir.
Turn the heat down to it's lowest setting and simmer, covered with a lid, stirring occasionally for 2 hours.
Check it after 2 hours for tenderness, it should begin breaking down a bit.
Add spice dump #2 and stir.
If it looks like there is too much liquid, leave the lid on half way to reduce.
Continue simmering for another 2 hours, stirring occasionally.
You want the liquid to reduce to thicken the chili, but not to the point of being dried out.
Refrigerate the chili for at least 24 hours, before serving to allow the flavors to really meld into the chili.
Notes
Add any toppings you like and serve with a side of beans and your favorite cornbread!
*1 pound of ground wild game sausage can be sautéed along with the venison.