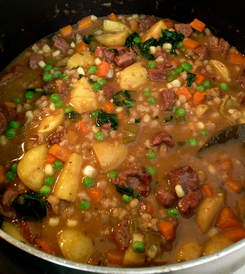 Venison Barley Stew
By Bobbie Jo Wasilko
He Hunts She Cooks
Serves 6
A hearty stew for hearty appetites and cold weather!
I have everything in this stew but the kitchen sink.
​A dollop of horseradish cream and hot homemade bread makes this dish complete.

Ingredients:
2-1/2 pounds venison shoulder, cut into 1 inch pieces (substitute elk, moose, caribou, antelope, or bear)

1 large onion, chopped

2 carrots, cubed

1 celery stalk, cubed

1 leek, white and light green parts only, chopped

5 cloves garlic, minced

2 tbs. tomato paste

2 tbs. anchovy paste

1 tbs. garlic powder

1 tbs. onion powder

1 tbs. Kosher salt

1 tbs. fresh cracked pepper

5 fresh thyme sprigs, leaves only

2 bay leaves

1-14 ounce can crushed tomatoes

9 cups venison or beef stock ( I used 5 tbs. More Than gourmet venison Demi-Glace mixed with 9 cups water)

1 cup Pinot Noir red wine (cheap stuff will do)

1/2 cup pearl barley, uncooked

7 honey gold potatoes, skin on cubed, placed in a bowl of cold water until ready to use (keeps them from turning brown)

1/2 cup frozen petit white corn

1/2 cup frozen peas

2 cups chopped kale

Canola oil or grape seed oil for sautéing
Instructions:
1.Cut shoulder meat into 1 inch pieces, season with salt and pepper and sit aside while prepping other ingredients
2.Heat a large soup pot with a few tablespoons of oil and heat on medium-high
3.Add the pieces of meat, a few at a time to the pot and brown (don't over crowd the meat)
4.Remove the browned pieces to a bowl
5.Continue adding the meat, a few at a time until the pieces are browned
6.Add a bit more oil if needed and add the onion, carrot, celery, and leeks, and minced garlic and sauté for 5 minutes
7.Add the meat back to the pot with the vegetables
8.Add the tomato paste, anchovy paste, garlic powder, onion powder, Kosher salt, pepper, thyme leaves, bay leaves, crushed tomatoes (with juice), venison (or beef) stock, and red wine
9.Bring the pot to a boil, then turn down to low heat
10.Partially cover the pot with a lid and keep on a very low simmer for about 2-3 hours
11.Once the meat is becoming tender, add the pearl barley and simmer another 1-2 hours, stirring on occasion so the barley doesn't lump up or stick to the bottom of the pot
12.Turn the heat to medium-high and add the potatoes, corn, peas, and kale and cook until potatoes are fork tender
13.Mix a few tablespoons prepared horseradish with 3 tbs. cream and top with soup if desired
Notes:
This stew can be canned in a pressure canner for longer shelf life… although it tastes so good, it will be a challenge to keep on a shelf!!