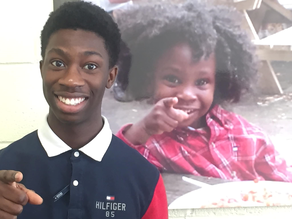 The Lowcountry FHFH chapter in South Carolina donates meat to Tricounty Family Ministries.

Tricounty Family Ministries

is an amazing organization making a diffe
rence with your help!
Tricounty Family Ministries posted this article on their Facebook page:

Fourteen years ago a beautiful little boy came to our ministry for lunch with his grandmother. He didn't want to eat the green vegetables on his plate and started sulking. He was so cute I had to go outside to the picnic table where he was sitting and started teasing him about eating his veggies. He pointed to me and asked me to taste them first. His grandmother, who raised him, brought him to TFM today. Here he is about 6' tall, with the same beautiful brown eyes, getting ready to graduate with a 3.5 GPA, and going into the Air Force. Congratulations, China.
Thank you for helping us support Tricounty Family Ministries and making a positive difference in the lives of the people they serve! ​