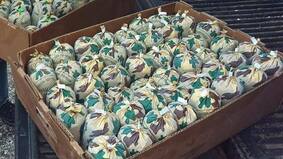 Alasyn Zimmerman​ ​at
KIFI Local News 8
​ wrote about FHFH in Idaho and the importance of venison donations to feeding programs and food banks in a news story titled "Farmers and Hunters Feeding the Hungry ​M​akes ​Donation to Local ​F​ood ​B​anks​.​"
CLICK HERE
to read the article.
Our FHFH Chapter Coordinator for South East Idaho FHFH, Nate Matlack, is making a difference to those in his community struggling with hunger. You can find Nate and the rest of our local Chapter Coordinators by
CLICKING HERE
. We encourage you to reach out and support them!