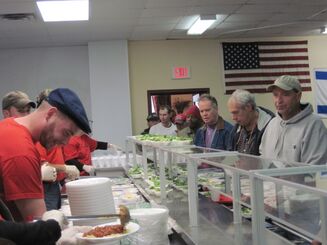 On Veterans Day we honor the heroic efforts of the men and women who served in the U.S. Military. Veterans Day provides us an opportunity to salute and thank the brave individuals who have served our country – past and present.
Veterans, like millions of other people in our country, experience the same challenges of affordable housing and low income. In 2019, 1,139,738 veterans had income below poverty level with 490,158 of them being 65 years of age or older. (Statista, Poverty Status of Veterans in the United States in 2019, by Age).
In 2018 there were 1.5 million veterans living in a household that completely relied on SNAP to supplement their food intake. (Military Families Learning Network, July 2019). However, SNAP benefits are not always enough to provide an adequate amount of food, so some veterans also reply on food banks, food pantries and feeding ministries to have enough food for themselves and their families.
And of the more than 40 million people Feeding America and their network of food banks serve each year, 20 percent of households include someone who has served or is currently serving in the U.S. military. (Feeding America, June 2018).
It is heartbreaking that so many veterans struggle to put food on their table! Our veterans fought and sacrificed for our country. Now we need to fight for them to make sure they don't go hungry. One way to thank a veteran for their sacrifice and service is by helping them have enough food for themselves and their families.
FHFH provides nutritious meat at no cost to food banks, food pantries and feeding ministries.
With so many people struggling to make ends meet, especially during the COVID pandemic, your support has never been more important. Please consider donating to FHFH as we continue our fight to end hunger in our country.
FHFH thanks the many men and women for their service to our country!
Thank you for your continued interest in our mission of feeding the hungry.
Sincerely,

​Josh Wilson
Executive Director