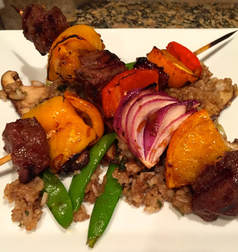 Spicy Orange Antelope Skewers with Shiitake Mushroom, Snap Pea Stir Fried Rice for Meat On A Stick Monday
by Bobbie Jo Wasilko
He Hunts She Cooks
​
Serves 6
​
Reminiscent of the Chinese dish orange beef, this meat on a stick Monday is sweet, spicy, and has a tangy orange flavor!
For the Meat Skewers
2-1/2 lbs. Antelope Top Round or Loin (substitute venison, elk, moose)
3 Bell Peppers (Red, Orange and/or Yellow)
2 Red Onions
*3 Navel Oranges (2 for the skewers, 1 for the marinade)
For the Marinade
1/2 cup Orange Juice
1/4 cup Soy Sauce
1/4 cup Shaoxing Rice Wine or Dry Sherry
2 Tbs. Minced Garlic
2 tbs. Minced Ginger
1 tsp. Onion Powder
1 crushed Dried Aji Pepper (or substitute 2 crushed dried Thai Chili peppers)
*1 Orange (Orange peel and juice, no white pith)
1/4 cup Sesame Oil
For the Glaze
3/4 cup Orange Marmalade
1/3 cup Orange Juice
1/4 cup Soy Sauce
6 Tbs. Rice Wine Vinegar
4 tbs. Honey
1 tsp. Onion Powder
1 tsp. Ginger Powder
2 Dried Aji Chili, broken into small flakes (or 2 dried Thai Chili Peppers)
1/2 tsp. Ground Long Pepper (preferred, but you can substitute black pepper)
Pinch of Cayenne
For the Stir Fried Jasmine Rice
1-1/4 cup Jasmine Rice
3 Scallions, white and green parts, sliced into small pieces
1-1/4 cup Fresh Snap Peas or Snow Peas
1-8 ounce pkg. Fresh Shiitake Mushrooms
1-1/2 Tbs. Nori Furikake Rice Seasoning (dried seaweed flakes)
Peanut Oil for sautéing
Soy Sauce, to taste
Pepper to taste
For the Antelope/Venison Skewers
Remove the silver skin and connective tissue from the meat and cut into 1.5 inch pieces, add to a gallon size zip lock bag, and set aside.
For the Marinade
Peel the orange skin with a potato peeler, and add to the meat.
Discard the white orange pith, and add the rest of the orange to the meat, squeezing the pulp to release the juice.
Mix all the remaining ingredients into a measuring cup and pour all over the meat.
Refrigerate for 6-12 hours.
For the Glaze
Add everything to a small pot and bring to a low simmer for about 30 minutes to reduce and thicken.
Turn off the heat and let it cool down.
**The glaze can be made 2-3 days ahead and refrigerated.
For the Stir Fried Jasmine Rice
Cook the rice in salted water, or steam the rice, and set aside to cool.
While the meat is grilled, heat about 6 tablespoons peanut oil to a large frying pan over medium-high heat.
Add the pea pods, shiitake mushrooms and scallions, and stir fry for about 2 minutes.
Add the pre-cooked jasmine rice and continue to stir fry another 2 minutes.
Turn off heat and add the furikake seasoning, soy sauce and pepper, to taste.
Serve with meat skewers.
To Finish
Preheat the grill to 400ºF.
Cut the bell peppers, onions, and oranges into 2 inch pieces.
Skewer the meat, alternating between the cut peppers, onion and orange pieces.
Grill for just a few minutes, and baste with orange soy glaze.
Serve with stir fried rice.
Notes
The glaze can be made 2-3 days ahead, refrigerated and brought to room temperature before grilling.
The jasmine rice can be steamed or simmered the day ahead, and stir fried just before serving.