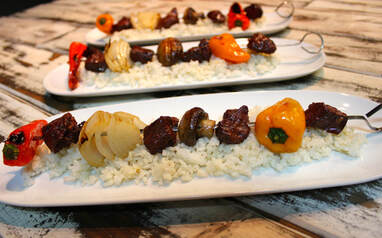 Shish Ka-Bobbie Jo
by Bobbie Jo Wasilko
He Hunts She Cooks
Serves 4
This is hands down my favorite shish kabob made my way, so I decided to name it after myself. lol For the best flavor, marinate the venison no less than 24 hours. I suggest you use a dry aged top butt or backstrap for the most tender cut and cook it no more than rare to medium-rare.
Prep Time: 24 hr 30 min
Cook Time: 3 min
Total Time: 24 hr 33 min
Ingredients
3 lbs. Dry Aged Venison Top Butt or Backstrap (substitute elk, moose, antelope)
2-8 oz. Packages Whole White Mushrooms
2 Large White Onions
4 Sweet Bell Peppers (red, yellow, or orange)
1-1/4 cups Olive Oil
1/2 cup Soy Sauce
1/3 cup Lemon Juice
2 tbs. Minced Garlic
2 Bay Leaves
1 tsp. Black Pepper
Instructions
Cut top butt or backstrap into 2 inch pieces and place in a large zip lock bag.
Add whole mushrooms to the bag.
Add the olive oil, soy sauce, lemon juice, garlic, bay leaves and pepper, and seal closed.
Place the bag in a large bowl (in case the bag leaks), and refrigerate no less than 24 hours.
The next day, remove the meat/mushrooms from the fridge 1 hour before grilling.
Cut up the bell peppers, and onions into 2 inch pieces.
Soak wooden skewers (if using), in warm water for 30 minutes.
Skewer the meat, mushrooms, peppers and onions alternating between the meat and vegetables.
Place on a hot grill and cook for no more than 3 minutes (or rare to medium-rare).
Serve with rice flavored with cumin powder or other side dish of your choice.