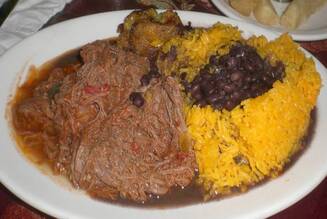 Ropa Vieja (Cuban)
Submitted by Jim Tate
Ropa Viejo is a national Cuban dish. While "ropa viejo" translates as "old clothes," the reality is a lot tastier than the name would suggest. This version is made using shredded venison with peppers and onions in a tomato sauce. It is served with rice.

1 tablespoon vegetable oil
2 pounds venison backstrap
1 cup beef broth
1 (8 ounce) can tomato sauce
1 small onion, sliced
1 red or yellow bell pepper, seeded and sliced into strips
1/3 cup dried and powdered wild mushrooms
2 cloves garlic, chopped
1 (6 ounce) can tomato paste
1 teaspoon ground cumin
1 teaspoon chopped fresh cilantro
1 tablespoon olive oil
1 tablespoon white vinegar
6 green olives stuffed with pimento
1/3 cup raisins
Heat vegetable oil in a large skillet over medium-high heat. Brown the venison on each side, about 4 minutes per side.
Slice and transfer venison to a slow cooker. Or, the venison can be cooked and then shredded. Pour in the broth and tomato sauce, then add the onion, garlic, tomato paste, cumin, cilantro, olive oil, mushroom, and vinegar. Stir until well blended. Cover, and cook on high for 4 hours, or on low for up to 10 hours.
An hour before serving, add the bell pepper, olives, and raisins.
Serve over rice with lime wedges, grated cheese, and fresh cilantro.