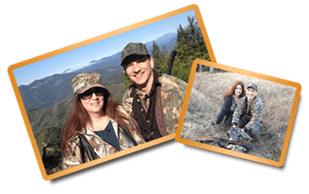 Dan and Bobbie Jo Wasilko are a traditional husband-and-wife couple where Dan hunts for wild game and Bobbie Jo cooks what he brings home. But unlike the stereotypical hand-off at the pot on the stove, Bobbie Jo will often go into the field with Dan and he will often help Bobbie Jo in the kitchen. This way they support each other and share both the harvest and the preparation of these nutritious and natural wild meats that are the ultimate achievement of the hunt. Based in northern California with roots in Pennsylvania, they show how couples can work together to be successful both in the field and in the kitchen. Visit their website.
Dan and Bobbie Jo are currently working on a television show called "He Hunts She Cooks™" where their collaboration for hunting and cooking is brought to life in an exciting and entertaining television series.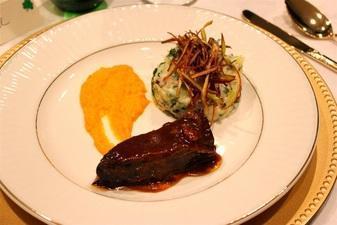 Guinness Braised Venison
by Bobbie Jo Wasilko
He Hunts She Cooks
Cookin' Wild
Serves 4-6
Ingredients:
3 pound Venison Bottom Round *(substitute bottom butt, shoulder, or 4 large shanks)
2-12 ounce Bottles Guinness or Kaliber (non-alcoholic) beer
3 cups Beef Stock (low sodium) or Venison Stock
1 Leek (white and light green parts only)
1 Large Onion
2 Carrots
2 Celery Stalks
2 Tbs. Tomato Paste
1 tsp. Fresh Ground Black Pepper
1 Tbs. Onion Powder
3 Sprigs Fresh Thyme
2 Bay Leaves
1 tsp. Caraway Seed (fennel or anise seed)
3 Tbs. All Purpose Flour
Instructions:
*The venison can be made 1-2 days ahead and gently re-heated on top of the stove over low heat.
1. Bring the venison to room temperature 1 hour before cooking.
2. Pre-heat the oven to 300 degrees.
3. Season the meat with salt and pepper.
4. Coat the venison with flour and shake off the excess, and set meat aside.
5. Rinse the leeks to remove all dirt and sand. Then dice the leeks (white and light green parts only), onion, carrots, celery and set aside.
6. Mince the garlic and set aside.
7. Coat a large frying pan with oil and heat to medium-high.
8. Add the venison and brown on both sides, then remove to a large casserole dish, roaster, or dutch oven.
9. Turn down the heat to medium and add the chopped vegetables to the frying pan and sauté until caramelized, about 5 minutes.
10. Add the minced garlic and tomato paste and sauté a minute.
11. Add 1/2 cup Guinness/Kaliber over the vegetables to de-glaze the pan.
12. Pour all the vegetables, remaining Guinness/Kaliber, stock, spices, herbs, and all remaining ingredients over the venison and cover.
13. Place in the oven to braise 3-5 hours. Check at 3-1/2 hours and return to the oven until the meat is tender, if needed.
14. Once the venison is tender when pierced with a fork, remove the venison and discard the bay leaves and thyme stems.
**Serving Suggestion: Serve the venison with traditional Irish Colcannon (mashed potatoes with kale and leeks).