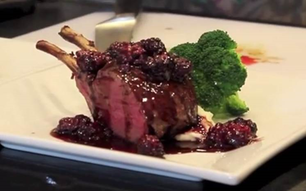 Rack of Venison with a Caramelized Shallot Blackberry Sauce
By Bobbie Jo Wasilko
He Hunts She Cooks
A perfect pairing: A roasted venison rack and fresh blackberries!

Caramelized Shallots
10 Shallots (peeled and sliced)

3 Whole cloves garlic (peeled)

3 Tbs. Butter

2 Tbs. Sugar

½ Cup beef or venison stock

3 Sprigs of fresh thyme

Blackberry Reduction
1 Cup Cabernet Sauvignon wine

1/2 Cup Port wine

1 1/2 Cups beef or venison stock

1 Tbs. Allspice berries

1 Tbs. Black peppercorns

1/2 Tbs. Juniper berries

4 Sprigs fresh thyme

Venison Rack
1 Eight rib rack of venison (substitute antelope, elk, boar)

Grape Seed Oil

Kosher salt and fresh ground pepper

Additional Items
2 Pints of fresh blackberries

2 Tbs. butter

1 Tbs. Sugar

Directions
Generously salt (fresh or defrosted) rack of venison with Kosher or Sea Salt 24 hours ahead and wrap in cling wrap and place in the fridge overnight. Salting the meat 24 hours ahead really brings out the flavor, and makes it juicy!
For the Caramelized Shallots
Preheat the oven to 350 degrees. In an oven safe sauté pan, add butter, shallots and garlic and sauté for 2 minutes over medium high heat. Add sugar and coat shallots, then add fresh thyme and stock. Place the pan in the oven and roast shallots for 45 minutes. Remove and set aside.

For the Blackberry Reduction
In a small pot, add both wines, and stock. Lightly crush allspice, peppercorns, and juniper berries to release their flavor, and then add to the pot, along with the fresh thyme, and bay leaf. Reduce by half over medium heat (this could take about 1 hour). Once the reduction is reduced by half, pour it into the pan with the shallots and heat the mixture on medium high heat, until it becomes syrupy about 7 minutes. Then place a small strainer over a clean pot, and pour the shallots/liquid over the strainer, and discard the shallots, herbs, and peppercorns ( they have done their job). Reserve the sauce in the fridge overnight, if desired.

For the Venison Rack
Preheat the oven to 375 degrees. Remove the rack from the fridge an hour before cooking to bring to room temperature. Re-season the meat with a bit more salt and fresh cracked pepper. In an oven safe pan (cast iron), heat 4 tablespoons grape seed oil over medium high heat. Sear the meat on both sides then place in the oven and roast, until desired doneness. I recommend cooking no further than medium rare (about 25 minutes).

To Finish
While the roast is cooking, place the reserved sauce back to the stove and re-heat. In a sauté pan, heat 2 Tbs. butter, and add blackberries and sauté for 2 minutes. Add sugar and sauté 1 minute. Add the berries to the sauce. Carve the venison into servings and pour blackberry sauce over top.
Notes
*To save time, I suggest making the caramelized shallots/reduction 1-2 days ahead, and sauté blackberries just before serving