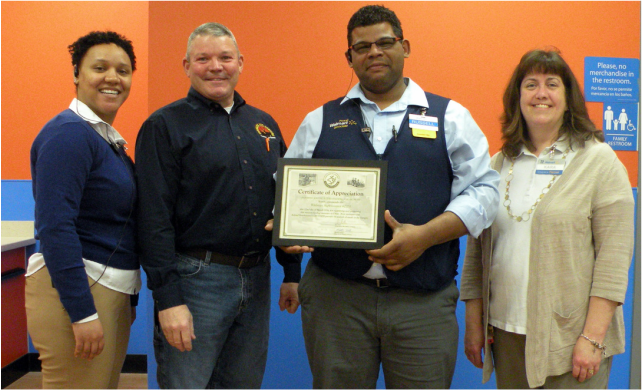 The Oxford Walmart Superstore located at 5720 College Corner Pike, Oxford, Ohio, has teamed with the Southwest Ohio Chapter of Farmers and Hunters Feeding the Hungry to supply venison to local food banks and feeding ministries. The Oxford Walmart donated $1000 through the Hunger Relief Grant program.
They allowed us to join them in their morning meeting where we had the opportunity to present them with a certificate of appreciation, share about FHFH and how their donation will be used right here in the local area.
Pictured from left to right is Assistant Manager Teneen Hankins, Southwest Ohio FHFH Coordinator Don Distler, Assistant Manager Russell Martin and Human Resources Director Kara Brandenburg.
Thank you Walmart!