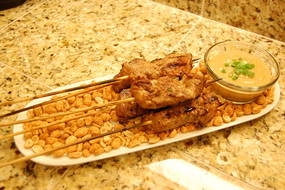 Venison Satay with Peanut Sauce
By Bobbie Jo Wasilko
He Hunts She Cooks
Serves 4-8
For the Venison:
2 pounds Venison, cut into long 3 inch strips (leg cuts will work, or loin)
Marinade:
1/2 cup Low Sodium Soy Sauce
1/4 cup Scallions (green onions), cut into rings, including green parts
4 tbs. Toasted Sesame Oil
3 tbs. Brown Sugar
3 tbs. Roasted Sesame Seeds
2 tbs. Anchovy Paste (eliminate if allergic, but don't worry, it won't taste fishy)
2 cloves Garlic, minced
3 tbs. Red Pepper Flakes
2 tbs. Dried Onion Flakes
1 tbs. Onion Powder
1 tsp. Ginger Powder

Peanut Sauce:
1/4 cup chopped Scallions
1-1/2 tbs. Fresh Cilantro, chopped
1 Jalapeño, stemmed, seeded and minced
1 tsp. minced Garlic
1/2 tsp. minced Fresh Ginger Root
3/4 cup Peanut Butter
1 tbs. Toasted Sesame Oil
2-1/2 tbs. Fish Sauce
4 tsp. Fresh Squeezed Lime Juice (about 1/2 small lime)
1-1/4 cups Coconut Milk
2 tbs. Hoisin Sauce
2 tbs. Honey.

Directions:

For the Venison:
Slice the venison into 3 inch strips and place in a zip lock bag or glass baking dish.
Mix all the ingredients for the marinade and pour over the meat.
Refrigerate for 24 hours.
Heat the grill to 350-400ºF.
Soak wooden skewers, and skewer meat.
Grill very quickly, only 1 minute per side.
Serve with peanut sauce.

For the Peanut Sauce:
Mix all the ingredients, and refrigerate until using.
*If the peanut sauce seems to separate, just mix until re-incorporated.

SERVING SUGGESTIONS:
FOR A LARGE PARTY:
These can be served on a large platter covered with a bed of dry roasted peanuts.
FOR A MAIN COURSE:
Serve 3 skewers per person with coconut milk rice, and steamed edamame.