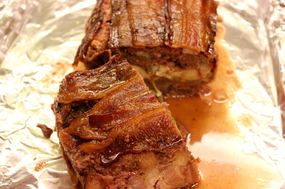 Jalapeño Cheese Stuffed Bacon Wrapped BBQ Glazed and Smoked Venison Meatloaf!!
That's a mouthful for sure…
A mouth full of goodness, that is!
By Bobbie Jo Wasilko
HeHuntsSheCooks.com
Ingredients:
3 lb. Ground Venison
2 lbs. Bacon
2-3 Jalapeños, de-seeded and minced finely
3 Eggs, lightly beaten
5 Slices Sandwich Bread, torn into small pieces
1 medium onion, small diced
2 Tbs. Onion Powder
2 Tbs. Garlic Powder
1-8 ounce pkg. Shredded 4 Cheese Mexican
1 cup Prepared BBQ Sauce, *divided in 1/2 cup portions
Kosher Salt
Pepper
Directions:
1. In a large mixing bowl, add the ground venison, minced jalapeño, beaten eggs, torn bread pieces, diced onion, onion powder, and garlic powder.
2. Mix until combined.
3. Line a bread pan with saran wrap and divide the meatloaf in half.
4. Place one half of the meatloaf in the bottom of the pan, press down lightly.
5. Pour 1/2 cup BBQ sauce over top.
6. Add the shredded cheese.
7. Add the remaining half of the meatloaf and press down lightly, and set aside.
Make a basket weave out of the bacon:
From one and a half (about 16 slices) package of bacon, lay the bacon slices, horizontally close together on a large sheet of heavy duty aluminum foil.
From the other one and a half packages, take one piece of bacon, and weave it vertically, going over one slice and under the next piece of bacon to create a basket weave, stretching the bacon to reach the end of the slices of bacon.
Continue until all the bacon creates a whole weave.
Remove the meatloaf from the loaf pan by carefully turning it over and removing the saran wrap.
Lay the meatloaf, top side down in the center of the bacon weave.
Fold the bacon over the meatloaf, using a few toothpicks to secure it together.
Carefully turn the whole meatloaf over and fold the foil up around it, but do not cover it (this is just to keep the drippings in the foil.
Pre-heat the smoker, and add mesquite wood chips, to get some smoke developing.
Place a drip pan under the grate and lay the foil and meatloaf directly on the smoke grate.
Smoke for 45 minutes.
After 45 minutes, baste the meatloaf with remaining BBQ sauce. and continue to smoke another 15 minutes.
Remove and serve.