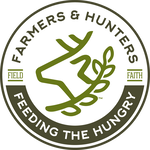 FHFH welcomes to our team:

Weston Sinn as the new Chapter Coordinator for Buckeye Area FHFH in Ohio.

You can find Weston and the rest of our local Chapter Coordinators by

CLICKING HERE. We encourage you to reach out and support them!


Saunders Processing as a new participating meat processor in Troy, North Carolina.
If you would like to donate deer or livestock to FHFH, please

CLICK HERE

to find a participating FHFH meat processor.