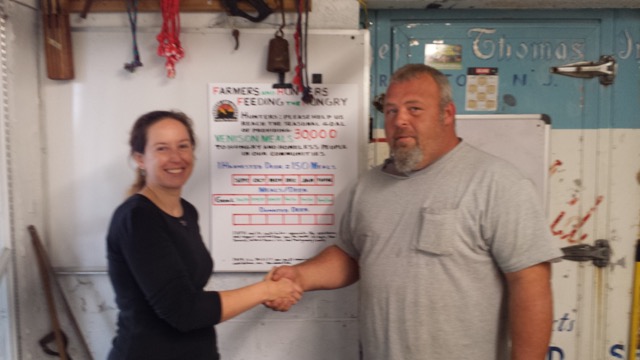 In the photo are Ciji Wagner, Miriam's Kitchen's Executive Chef and Kris Stiles, owner and operator of KS Kuts. In the background is the chart with the DC & Montgomery County FHFH Chapter's goal of 30,000 meals this season!
Miriam's Kitchen received 171 pounds of venison from FHFH participating meat processor KS Kuts owner and operator, Kris Stiles. Miriam's Kitchen serves two meals per day (breakfast and a late lunch/early dinner) seven days a week totaling 87,000 meals annually! To give you an idea of the magnitude of the homeless and less fortunate population in the District of Columbia, the venison donation on September 28 provided a protein source for about five meals at Miriam's Kitchen.
Lynn Sheldon is the Chapter Coordinator for DC & Montgomery County FHFH. Lynn has set a goal for his chapter to provide 30,000 meals this season!
Thank you to everyone who made the donation of this venison to feed the hungry in D.C. possible!