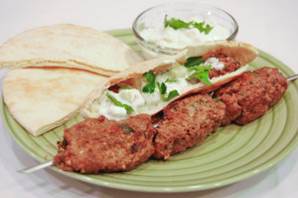 Kufta (kofta) with Tzatziki
by Bobbie Jo
Wasilko
He Hunts She Cooks
Serves 2
Middle Eastern kufta gets a variation using bison, but any venison can be substituted to make this meat on a stick.
Prep Time – 45 min
Cook Time – 4 min
We're going to the Middle East with Meat on a Stick Monday! I love the spices and flavors of the Middle East. With so many countries in close proximity to each other there is an overlap of cuisine. Kufta (or kofta) are little meatballs or meatloaves skewered and cooked over an open fire. Many Middle Eastern countries have their own variation of them. Greece, Iran, Israel, Turkey, Pakistan, and others usually make these little meats on a stick with lamb, and beef as well as other meats like pork or chicken. I made mine out of bison, but venison can be substituted, along with some pork fat to keep it from falling apart on the skewer.
I've made quick work of this recipe by using a mix of spices called "baharat" which, in Arabic means "spices." This spice (or a blend of spices) can be found at most Middle Eastern grocery stores, but you can also make your own. The mix of spices can vary by country, but I've included a spice combination if you are unable to find the baharat spice. This mix of spices can also be added to oil to brush over other meats. I made a side of cool refreshing tzatziki to temper the smokiness of the spice. Kufta (or kofta) can also be served with some pita, a light salad, and rice.
​For the Tzatziki
1 cup Middle Eastern yogurt ( I used Fage, but you could use any plain whole milk yogurt)
1 large Cucumber
3 tbs. Fresh Mint, julienne sliced (or 1-1/2 tbs dried mint)
1 tbs. Dill (not usually used, but my daughter likes it, so I added it)
1 tbs. Lemon Juice
1 tbs. Garlic Powder
1 tbs. Kosher Salt
1/2 tsp. Black Pepper
For the Kufta
1 lb. Venison, ground
4 ounces Pork Fat, ground
3 Cloves Garlic, minced
1/3 Onion, very finely minced (or grated)
3 tbs. Baharat Spice Blend (*or make your own from the list below)
4 tbs. Flat Leaf Parsley, finely chopped
1 tbs. Kosher Salt
Canola Oil or Vegetable Oil, for brushing on meat
Additional Items
Instructions
For the Tzatziki: Make the tzatziki before making the kufta to allow the flavors to develop.
Peel, and de-seed the cucumber.
Dice the cucumber into very small dice and toss in a covered container.
Add the remaining ingredients and mix, then set aside while making the kufta.
For the Kufta
Combine the ground venison and pork fat in a large bowl.
Mince the garlic and onion and add to the meat.
Add the baharat spice blend.
Finely chop the parsley and add to the meat.
Add the salt.
Using an ice cream scoop, portion out the meat into meatballs (you should get about ten meatballs).
Shape the meatballs into 3 inch log shapes (or keep meatball shaped if desired).
Place the meat logs in the fridge for about an hour to firm up.
Very carefully skewer the meat logs onto skewers.
Heat a grill to 400ºF.
Brush the skewered meat with a bit of any oil.
Place the skewered meat on the grill for 2 minutes.
Flip the meat to the other side and grill another 2 minutes.
Remove the meat and skewers and serve with pita bread and tzatziki.
*Baharat Spice Mix
3/4 tbs. black pepper
3/4 tbs. ground cumin
1/2 tbs. ground cardamom
1/3 tbs. ground coriander
1/3 tbs. cinnamon
1/2 tsp. paprika
1/3 tsp. nutmeg