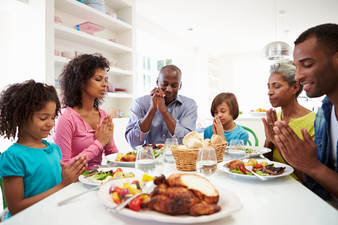 "For I was hungry and you gave me something to eat, I was thirsty and you gave me something to drink, I was a stranger and you invited me in, …."
Matthew 25:35
Meals, Memories and Thankfulness
On Thanksgiving Day we gather with family for a meal, give thanks and have wonderful memories of the day. But not everyone will have food to be thankful for or wonderful memories of Thanksgiving Day. In America, 1 in 8 people are facing hunger! They are of all ages from childhood to the senior years. They are the unemployed and the working poor. They are living in every county in our country. They may be your family, friends, neighbors and coworkers!

FHFH is committed to ending hunger in our country, but we can't do it alone. We need your help! As you think about your blessings, won't you please consider joining with us in the fight against hunger and help give the hungry children, women and men in our country food to be thankful for and good memories this Thanksgiving Day?

FHFH is thankful for God's provision of people including…
The generous and compassionate supporters who give financially to help cover the costs of processing, packaging and freezing the meat.
The hunters who donate deer and farmers who donate livestock.

The meat processors who partner with FHFH to process donated deer and livestock.
Our dedicated, caring volunteers who give of their time and energy.
People who share our mission of feeding the hungry with others.
The opportunity to continue the fight against hunger so that one day no one in our country will be without enough to eat!
On behalf of FHFH and all those in our country suffering from hunger, we THANK YOU for your generous support!

​Sincerely,
​
​
Josh Wilson
Executive Director
Farmers & Hunters Feeding the Hungry