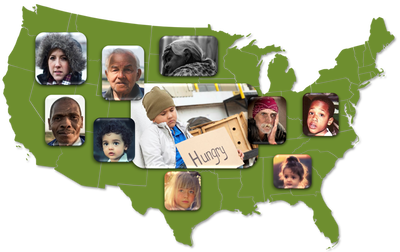 It's Summertime and Your Neighbors Are Facing Hunger
It's summertime and it's very different this year. It is heartbreaking that people have lost their job or had work hours reduced due to the impact of the COVID-19 pandemic and may not know where their next meal will come from. Many families are having to make the difficult decision of whether to pay bills or buy food.
Millions of people across our country who never thought they would experience the hardship of struggling with hunger are turning to food banks, food pantries and feeding ministries to keep from going hungry. These programs could be their last hope of getting enough food to eat.
In the United States 1 in 9 people are struggling with hunger and no community is untouched. That's 37,227,000 people and 11,174,000 of them are children! The statistics don't show the faces and suffering of the people who are hungry.

Farmers and Hunters Feeding the Hungry is helping to make sure people who are in need have nutritious protein. FHFH provides hunters and farmers with the opportunity to help their hungry neighbors by donating deer or livestock to participating FHFH meat processors. The meat is then distributed to food banks, food pantries and feeding ministries.

Financial support enables FHFH to pay participating local butcher shops a discounted rate to process and package donated deer and livestock. As a result there is no cost to the hunter to donate deer or the farmer to donate livestock, or to the food banks, food pantries and feeding ministries who receive the much needed meat.

Our communities are stronger when we join together to help each other – especially in times of hardship like we are experiencing during the COVID-19 pandemic. You can make a difference to someone who is struggling to get enough to eat. Whether you donate deer or livestock or give financially to FHFH you are a part of a generous and compassionate group of individuals who are helping their neighbors in need! Together, we can make a positive impact in our communities!
Thank you for your continued interest in our mission of feeding the hungry.
​

Sincerely,

​
​
Josh Wilson
Executive Director