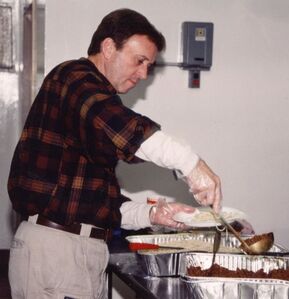 We've all felt hungry at times due to eating late or missing a meal now and then. For people who face hunger on a daily basis it's very different. They may skip a meal or two or may go an entire day without eating. People struggling with hunger often turn to food banks and feeding ministries for help.
Sometimes their hunger can make them desperate.
In the early days of our ministry, my dad (FHFH Founder Rick Wilson) was visiting a Baltimore soup kitchen. The people he met were delighted with the quality of the venison spaghetti sauce being served even though wild game was not a familiar item. Rick asked a little girl who was devouring her meal how she liked it and she told him that it was better than McDonald's.
Rick's heart broke when the cook explained, "I know that family. They eat from trash dumpsters behind local restaurants."
No one should have to eat out of a dumpster to keep from going hungry!

Protein is a vital component of a balanced diet for proper growth and good health.
This is especially important for the physical and cognitive development of children, and for maintaining a strong immune response in all age groups.
The grip of COVID-19 on our nation finally seems to be weakening. However the lingering impact of lost jobs and wages continues to affect many individuals, families and children.
Food banks and other feeding ministries continue to list meat and protein items among their top food donation needs. That's where FHFH is making a difference!
We provide nutritious meat from game and livestock donations to food banks and feeding ministries.
Did you know that one deer, processed into burger can be prepared in a soup kitchen to feed 200 hungry people?
Financial gifts to FHFH help us pay local butchers to process donated deer and livestock.
There is no cost to the hunters and farmers who donate or to the men, women and children who are fed.
Please consider donating
deer or livestock
or giving a
financial gift
to FHFH today. May no one ever again have to eat out of a dumpster to keep from going hungry!
Thank you for your support of our ministry of feeding the hungry.

​
​Josh Wilson
Executive Director