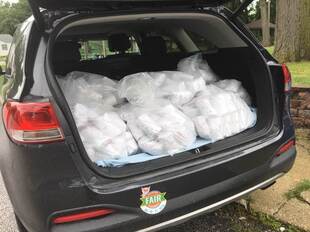 We received this letter from Hebron Country Food Pantry in Indiana thanking FHFH for helping with the meat processing cost for a steer they purchased.
Dear Friends at FHFH,

Thank you so very much for the $350 donated to assist in the processing of the steer we purchased at the Porter Country Fair. We ground the steer into hamburger to be distributed to clients of Hebron Country Food Pantry. Our clients are very grateful for this wonderful meat. We appreciate your assistance with the processing fees.

Hebron is a small town of around 3,000 residents. There are two low income housing units and two mobile home parks within our zip code. Statics show that 17.3% of residents of Hebron live at the poverty level. 36.6% of the children under 6 and 35.6% of the children 6 to 11 years old live at the poverty level. In May of 2013 Hebron Country Pantry had 55 household assists. Now we are assisting an average of 160 households each month. So you can see the need is growing in our community.

We are very blessed to have the support of the community groups, individuals, churches, the school and organizations such as yours. We are also a USDA client choice pantry and receive products through the Food Bank of Northwest Indiana. We are also blessed with over fifty volunteers from the community.

Thank you for your assistance with the processing of the steer and for all your organization does to help fight hunger!