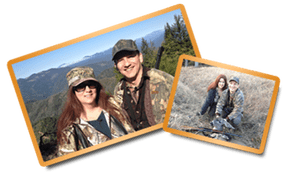 In "He Hunts She Cooks" Dan and Bobbie Jo Wasilko are a traditional husband-and-wife couple where Dan huntsfor wild game and Bobbie Jo cooks what he brings home. But unlike the stereotypical hand-off at the pot on the stove, Bobbie Jo will often go into the field with Dan and he will often help Bobbie Jo in the kitchen.
Their pilot show "He Hunts She Cooks" can be viewed here.
If you're looking for inspiration to step out into the wild and to step up your wild game dishes, visit their website.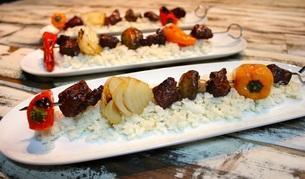 Do you like shish-ka-bobs? Here is another great recipe by Bobbie Jo.
"Shish-Ka-Bobbie Jo

can be used with venison, antelope, wild boar or even domestic beef tenderloin

Marinade:

1/4 cup lemon juice
1/2 cup **low-sodium soy sauce
2/3 cup olive oil (up to 3/4 cup if needed)
2 bay leaves (whole)
2 heaping Tbs. minced garlic

Venison Loin or Elk Tenderloin approx. 2-3 lbs. (use only trimmed TENDERLOIN OR LOIN (aka backstrap) meat, such as antelope, elk or even domestic beef)
8 oz pkg. Whole Mushrooms
1 Large White Onion
1 Red Bell Pepper
1 Orange Bell Pepper or Yellow Bell Pepper

24 Hours Ahead:

1. Cut venison loin into large pieces (about 2 inches each)
2. Combine all marinade ingredients and set aside.
3. Add meat and mushrooms into a glass or plastic bowl (or, if using a small amount of meat and mushrooms, place everything in a large sealable freezer bag). Pour marinade over meat and mushrooms and marinate for a FULL 24 HOURS.
4. Next day, bring the meat to room temperature by removing it from the fridge 1 hour ahead of cooking.
5. Cut onions and peppers into large chunks.
6. Soak wooden skewers 1/2 hour in warm water.
7. Skewer meat, mushrooms, onions and peppers, alternating between everything.
8. Pre-Heat the grill to about 375-400 degrees.
9. Grill the shish kabob quickly, about 1-2 minutes per side is all you need, since they cook fast.

If not using a grill: Drain meat and mushrooms well from marinade and first sear meat in a very hot pan for 5 minutes. Remove meat and then add mushrooms, and saute for about 3 minutes. Remove mushrooms and then add onions and peppers and saute quickly.

**Make sure to use a low-sodium soy sauce, otherwise, it can be salty.
Serve with any side dish, such as cumin flavored rice.