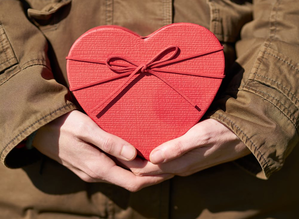 For I was hungry and you gave me something to eat, I was thirsty and you gave me something to drink, I was a stranger and you invited me in, …."
Matthew 25:35
Having a Heart for the Hungry

What do you do when you get hungry? Do you go out to eat? Do you check your refrigerator or cabinet for something to eat? Do you go to the grocery store to get more food if food is getting low? Unfortunately, not all the people in your community can do that.

In 2016 there were 41,204,000 people in America who were not getting enough to eat. Too many people are unable to purchase an adequate amount of food and are having to choose between buying food and paying utilities, transportation, medical care or housing. Some people struggling with hunger stretch their food budget by purchasing less expensive unhealthy food, watering down food or drinks or selling personal property. No one should have to live like that! And they don't have to!

You can make the difference!
February 14th is a day that celebrates love. Luke 10:27 says to "Love your neighbor as yourself." FHFH chapter coordinators, hunters who donate deer or elk, farmers who donate livestock, participating meat processors and our financial supporters all have a heart for those who are struggling with hunger. They care about those in need and are doing something to help them – they are "loving their neighbor"!
We are asking you to have a heart for the hungry this Valentine's Day and join with FHFH to provide nutritious meat to the hungry children, families, and seniors in your community! Will you open your heart for those who are hungry?
On behalf of FHFH and all those in our country suffering from hunger, we THANK YOU for your generous support!

Sincerely,
​
​Josh Wilson
Executive Director
Farmers & Hunters Feeding the Hungry