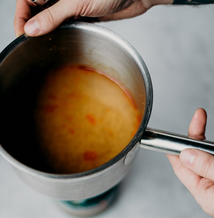 Groundnut Stew
Submitted by Jim Tate
Makes 6 servings
Peanut butter is ground up nuts, and peanuts are dug out of the ground – hence the name. Jim first obtained this recipe from a professional hunter he met years ago.
In Africa, the venison was usually Gazelle or other African antelope. Jim shared a bowl of venison groundnut stew with his neighbors. They were delighted to tell him that their Nigerian nanny would make groundnut stew using goat. Jim usually makes it with white-tailed deer or pronghorn. He was told it is commonly made with chicken, and often contains something from the sky, the earth, and the water.
​
2 pounds stew meat (venison preferred) cut in 1-inch chunks
2 teaspoons salt
1/2 teaspoon pepper (or substitute 1 tablespoon of a beef rub)
2 medium onions
2 medium tomatoes
10 florets okra
1/2 pound spinach
2 tablespoon salad oil (peanut oil best)
1 cup peanut butter

In a covered medium saucepan, cook meat, 1 1/2 cups water, salt, and pepper for 1 1/2 hours or until tender.
Meanwhile, in a covered electric blender container at low speed blend onions, okra, and tomatoes until smooth (or chop onions and tomatoes very fine).
In a large skillet over medium-high heat, in hot oil, cook onion-tomato mixture for 5 minutes. Add onion-tomato mixture, spinach, and peanut butter to meat. Cook at low heat about 20 minutes until spinach is cooked and sauce cooks down slightly.
Serve over hot rice.
Accompaniments:
Pass small bowls of shredded coconut, orange segments, pineapple chunks, or fried onions to sprinkle over individual servings of stew, if you like.