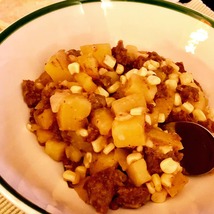 Ground Venison Hash
by Bobbie Jo Wasilko
He Hunts She Cooks
A great comfort meal that's easy to make.
Ingredients:
1.5 lbs Ground Venison
4-5 medium sized Yukon Gold Potatoes, cut into small cubes
1 bag Frozen Petit White Corn (C&W brand)
3 Cloves Garlic, minced
1/2 Onion, minced
1/3 cup Beef Stock
1 tsp Garlic Powder
1 tsp Onion Powder
1 tsp Kosher Salt
1 tsp Fresh Ground Pepper
Instructions:
​Preheat the oven to 350.
Into a dutch oven, add ground venison, minced onion, minced garlic, onion powder, garlic powder, salt & pepper, cover and place in the oven for 20 minutes.
Remove and break up the ground venison, add the cubed potatoes, and beef stock, stir.
Replace the lid and back in the oven for another 30 minutes.
Remove the Dutch oven, add the bag of frozen corn, stir, and place the Dutch oven back in, UNCOVERED, for 10 minutes more. Remove and serve with fresh bread or biscuits.