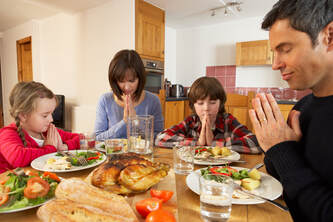 "For I was hungry and you gave me something to eat, I was thirsty and you gave me something to drink, I was a stranger and you invited me in, …."
Matthew 25:35
​
​
​In many homes Thanksgiving means the blessing of having family gathered around a table covered with delicious food. It's a time to remember and give thanks. It can also be a time we for get the millions of people who are struggling with hunger.
Some families do not have the blessing of a table covered with delicious food. For some people food for a Thanksgiving dinner doesn't even exist. Can you image what it would be like for your family to sit down to a table with no food, especially during the holidays?
People struggling with hunger often turn to food banks, food pantries and feeding ministries. FHFH pays the processing fees to FHFH participating meat processors so there is no cost to the hunter to donate deer or the farmer to donate livestock, or the food bank, food pantry or feeding ministry who receives the much needed meat.
There is a saying, "You are blessed to be a blessing." If you are blessed to have enough food to eat this Thanksgiving, give thanks and please be a blessing to someone in need. Be the reason someone smiles and gives thanks this Thanksgiving because they are not going to be hungry!
May we give thanks for what we have and join together to ensure a life free of hunger for everyone.
Thank you for your continued interest in our mission of feeding the hungry. Together we can make a positive difference!

Sincerely,
​
​Josh Wilson
Executive Director