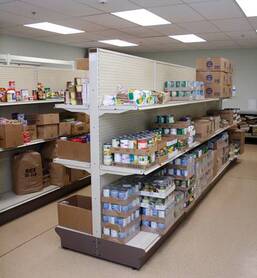 Bloomfield Food Pantry is a community wide service in Indiana administered by the Bloomfield Baptist Church to provide food to those in need. The food pantry covers 600 square feet of space in the CLC and utilizes multiple freezers and refrigerators. They are staffed entirely by volunteers from several different churches in the Bloomfield area.

​Each December they distribute "White Christmas" food boxes, on a first come, first served basis, to families in need so that they may enjoy a special holiday meal. Per month, they see an average of 90 different families come through their food pantry. Many of these families have an ongoing need and are repeat customers.
Bloomfield Food Pantry sent us a thank you note for the donation of venison to their food pantry by FHFH.
​Thank you so much for remembering our food pantry with the donation of ground venison from FHFH. We were almost out when you called and offered the meat to us. Just about everybody that comes to the pantry wants a pound or two of venison each visit.

You have blessed so many families through the FHFH organization giving us the meat. This year has been a rough one for many families, but FHFH supplied meat that was much needed. Again, thank you and God bless you and the members of Farmers and Hunters Feeding the Hungry.

~ The members of the Bloomfield Food Pantry
We thank the hunters who donated deer to Greene County FHFH to help feed their hungry neighbors!