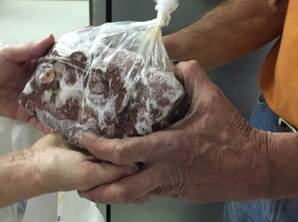 "For I was hungry and you gave me something to eat, I was thirsty and you gave me something to drink, I was a stranger and you invited me in, …."
Matthew 25:35
​
FHFH's Response to Hunger During the COVID-19 Pandemic
Since the onset of COVID-19 many people are suffering hardships. Hunger has been a hardship in every community in our country even before COVID-19, but as a result of the COVID-19 economic fallout the number of Americans struggling to put food on their table is rising.
FHFH is responding to help the increasing number of people who are experiencing food insecurity during the COVID-19 pandemic. FHFH normally accepts donated deer in the fall and winter. We are accepting donated livestock and/or purchasing locally sourced livestock and poultry, and deer using crop damage permits during the COVID-19 crisis and recovery.
FHFH is able to provide the needed meat to food banks, food pantries and feeding groups because of people who care about other people. Donations of deer and livestock are processed and distributed to food banks, food pantries and feeding groups. Financial donations help us pay the meat processing fees so there is no cost to the hunter donating deer or the farmer donating livestock and there is no cost for the food bank, food pantry or feeding group receiving the much needed meat.

In times of hardship and uncertainty such as during the COVID-19 pandemic, FHFH is helping our neighbors struggling with hunger.

Thank you for your continued interest in our mission of feeding the hungry. ​

Sincerely,
​

​
​
Josh Wilson
Executive Director
COVID-19 Project Partners