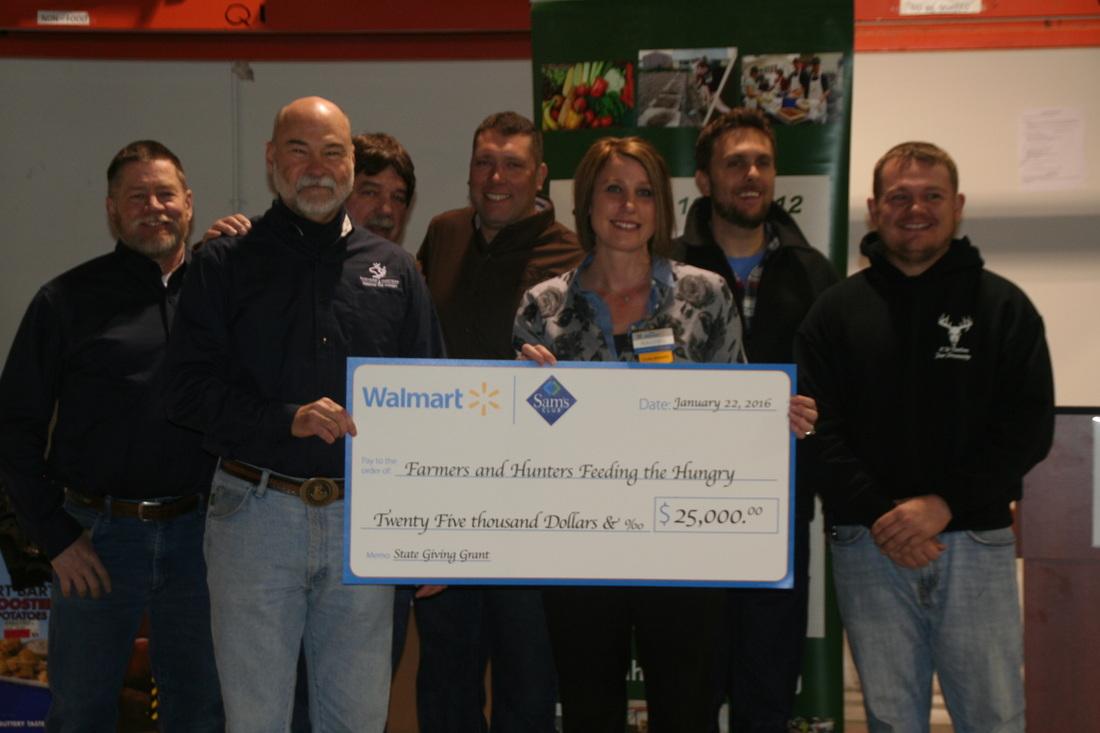 From left to right: John Mollet (Central Indiana FHFH Coordinator), Ian Munnoch (Monroe/Brown County FHFH Coordinator), Ken Worman (Cass County FHFH Coordinator), Bryan McFadden (Northwest Indiana FHFH Coordinator), Rachel Stenson (Walmart Store Manager), Jake Bruner (Operations Director Hoosier Hills Food Bank), and Kelby Waldrip (K.W. Custom Deer Processing)

Farmers and Hunters Feeding the Hungry Receives $25,000 Grant from the Walmart Foundation to Support Indiana Hunger Relief
Donation brings nutritious donated meats to the Hoosier state
INDIANAPOLIS, Ind.
–
January 22, 2016
– Today, Farmers and Hunters Feeding the Hungry (FHFH) received a $25,000 grant from the
Walmart Foundation's State Giving Program
to assist with the organizations hunger relief effort in the state of Indiana. Specifically, this grant will positively impact the local community by enabling FHFH to provide nutritious meat from donated deer and livestock to feeding programs and ministries that serve the needy of the state.
"We are very grateful for this contribution which will assist our chapters in their efforts to enable hunters and farmers provide protein-rich meat to the hungry of Indiana," said FHFH Executive Director Josh Wilson. "The Walmart Foundation is a wonderful partner in our mission to address the problem of hunger in Indiana and across America."
The grant was presented to FHFH during a check presentation ceremony held today at Hoosier Hills Food Bank. During the ceremony Walmart Market Manager Corey Langston and Store Manager Rachel Stenson spoke about the importance of giving back in the Hoosier state.
"At the Walmart Foundation, we understand that organizations such as FHFH are essential to building stronger communities. They share our values and are committed to Hoosiers in need live better," said Langston. "Through this donation, we are hopeful that residents in Indiana will have greater access to nutritious meets from donated deer and livestock."
FHFH gives hunters and farmers in Indiana the opportunity to donate deer and livestock to over
29 participating butcher shops
for processing and distribution to food banks, shelters, soup kitchens and ministries that feed the hungry. The organization raises financial support to pay the meat processing bills. Currently there are 13 local FHFH chapters in the state.
The Walmart Foundation's State Giving Program supports organizations that create opportunities so people can live better, awarding grants that have a long-lasting, positive impact on communities across the U.S.
To be considered for support, perspective grantee organizations must submit applications through the Walmart Foundation State Giving Program's online grant application. Applicants must have a current 501(c)(3) tax-exempt status in order to meet the program's minimum eligibility criteria. Additional information about the program's funding guidelines and application process are available online at
www.walmartfoundation.org/stategiving.
As part of Walmart's $2 billion commitment to fight hunger through 2015, Walmart donated 21.4 million pounds of food to local food banks—nearly 18 million meals in the last fiscal year in Indiana. In fact, Walmart reached $260 million in cash and $2.6 billing in in-kind donations nationwide, delivering on its commitment one year early. Additionally, just in the last fiscal year, Walmart and the Walmart Foundation gave $40 million to Indiana nonprofits. For more information on Walmart's fight against hunger, visit
http://foundation.walmart.com/our-focus/hunger
.
About Farmers And Hunters Feeding The Hungry
Inspired by a passion for the outdoors and compassion for the needy, Farmers and Hunters Feeding the Hungry (FHFH) is committed to addressing America's hunger problem in a unique and relevant way. Established in 1997, FHFH enables hunters and farmers in states nationwide to provide nutritious meat to feed the hungry of their communities.

About Philanthropy at Walmart
Walmart and the Walmart Foundation are committed to helping people live better through philanthropic efforts. By operating globally and giving back locally, Walmart is uniquely positioned to address the needs of the communities it serves and make a significant social impact within its core areas of giving: Hunger relief and healthy eating, sustainability, career opportunity and women's economic empowerment. Walmart and the Walmart Foundation are leading the fight against hunger in the United States with a $2 billion commitment through 2015. Walmart has donated more than 1 billion meals to those in need across the country. To learn more about Walmart's giving, visit foundation.walmart.com.