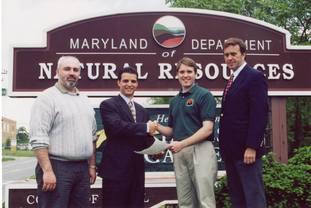 Left to right: Tim Lambert, Paul Peditto, Josh Wilson, Rick Wilson
In an older photo, Josh Wilson and Rick Wilson stand outside the Maryland Department of Natural Resources with Paul Peditto, Director of the Wildlife and Heritage Service of the DNR, and Tim Lambert who at the time was President of the Maryland State Sportsmen's Association.
For 20 years the MD DNR has supported FHFH and our mission
​of feeding the hungry in Maryland.
We thank the MD DNR for their support and having a heart for the hungry!