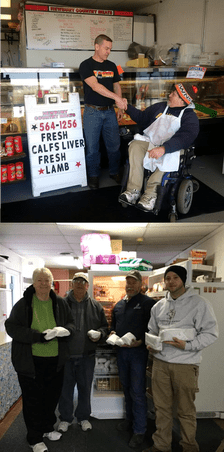 FHFH's mission of feeding the hungry in our country is a team effort! This past hunting season our chapters in states across the country provided many thousands of meals to those in need. Here are some examples…
In Ohio, Great Lakes FHFH
Coordinator Jason Traggiai partnered with Newbury Country Meats, LLC in February to provide 1,750 meals to hungry families in North East Ohio.
Maryland's Wicomico County FHFH
Coordinator, Chip Todd, and Wright Brothers Butchery and Taxidermy donated 2,268 pounds of venison to the homeless and hurting through Halo Ministries in Salisbury, MD.
John and Beth Mollet's Chapter,
Central Indiana FHFH
, donated 563 pounds of ground venison to Lapel Food Pantry in Indiana.
We thank all our Chapter Coordinators and Meat Processors for making a difference!
If you would like to donate deer or livestock to help feed the hungry, please
click here
.