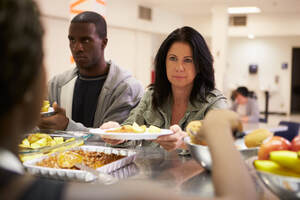 FHFH Continues to Fight Hunger in Our Communities
A lot has changed during the past couple months. Many people have lost their jobs or have reduced hours at work. Millions of people have filed for unemployment benefits and that number continues to rise. More of our neighbors are struggling with hunger due to the COVID-19 pandemic crisis. Some people thought they would never be in the position of not having enough to eat.
As a result of the hardship caused by the COVID-19 crisis, more and more people are turning to food banks, food pantries and feeding ministries across our country for help. These organizations are responding to the challenge by striving to provide food and meals to people in need. Meat is one of the items food banks, food pantries and feeding ministries often list as their most needed item.
One thing that has not changed is FHFH's commitment to providing nutritious meat to food banks, food pantries and feeding ministries to help people struggling with hunger. To meet the increased need during the COVID-19 crisis, we are accepting donated/discounted livestock and poultry along with deer that may be harvested using crop damage permits.
FHFH pays the meat processing fees to our participating meat processors so there is no cost to the hunter donating deer or the farmer donating livestock, or to the food banks, food pantries or feeding ministries receiving the much needed protein. As the need to provide meat increases, so does the need for funds to pay the meat processing fees and to purchase discounted livestock and poultry.
COVID-19 is affecting us all. Together we are stronger. Together, we can help ensure our neighbors have enough to eat. With your generous donations of deer or livestock and financial gifts to FHFH we can help provide food to our neighbors struggling with hunger.
If you have donated to FHFH, we want you to know how appreciative we are! We thank you for partnering with FHFH and being there for the people in your community who are struggling to get enough to eat during this critical time!
Thank you for your continued interest in our mission of feeding the hungry.

Sincerely,

​
​
​Josh Wilson
Executive Director