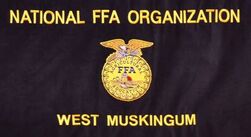 ​Muskingum County FHFH (OH-18) was recently blessed with a donation of $250 from the
West Muskingum FFA
in Ohio. Chapter President
​
Chloe Armstrong wrote us a letter about the immense value of FHFH in their community.
"We are writing to notify your organization that the members of the West Muskingum FFA Chapter have elected to donate, in the amount of $250, to the Muskingum County chapter of Farmers and Hunters Feeding the Hungry, Inc.

Our chapter members see the immense value in your organization and appreciates the individuals who continue to contribute to and manage the organization.

​Not only have we had past and present FFA members contribute deer to FHFH to be processed and donated to the local hunger network, but we have also had members who have been on the receiving end of the organization's generosity when in times of need.

As a chapter, we appreciate all that your organization does and hope that our donation will help with your continued mission of supporting our local community."

Sincerely,
Chloe Armstrong, Chapter President
West Muskingum FFA Chapter
The purpose of the West Muskingum FFA is to develop the students potential for premier leadership, personal growth, and career success through agricultural education. Agricultural Education prepares students for successful careers and lifetime of informed choices in the global agriculture, food, fiber, and natural resources systems.