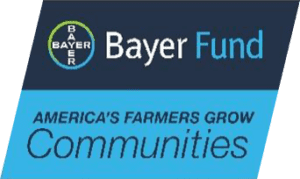 America's Farmers Grow Communities, a Bayer Fund program, partners with farmers to provide grants to local nonprofits to help their communities.
Through the program, farmers enroll for the chance to direct a $5,000 donation to a local eligible nonprofit organization of their choice.
The America's Farmers programs have given nearly $65 million to rural America since 2010.
Huron County, Ohio (May 15, 2023) – Local farmer Barb Eitle recently directed a $5,000 Bayer Fund America's Farmers Grow Communities donation to Farmers and Hunters Feeding the Hungry. FHFH will use the funds to help pay meat processing bills and program expenses associated with providing meat from donated deer and livestock to the needy. This grant will help the organization provide 6,500 servings of nutritious meat to food banks and feeding ministries in Huron County in Ohio.
"We are so thankful to Barb Eitle for selecting Farmers & Hunters Feeding the Hungry to receive this support," said Josh Wilson, FHFH Executive Director. "Her dedication to our cause is truly a blessing to the hungry of her county!"
Since 2010, the America's Farmers programs have awarded nearly $65 million to nonprofits, aspiring ag students and public schools across rural America. Farmers are leaders in their communities, which is why America's Farmers programs rely on them to help identify the worthiest causes.
Dedicated to making a difference in rural farming communities, the Grow Communities program asks farmers across the country to participate by nominating nonprofit organizations with resources to strengthen their local communities. Last August, farmers entered for the chance to direct a $2,500 Grow Communities donation to a local eligible nonprofit of their choice. Farmers have directed donations to food banks, emergency response organizations, schools, youth agriculture programs and many others that reflect the spirit and support the vibrancy of rural America.
"Bayer Fund is proud to work side-by-side with farmers to identify local eligible nonprofit organizations that are able to provide their residents with solutions that leave a lasting impact," said Al Mitchell, Bayer Fund president.
To learn more about how America's Farmers are making an impact, visit www.AmericasFarmers.com.
About Bayer Fund
Bayer Fund is a nonprofit organization dedicated to strengthening the communities where Bayer customers and employees live and work by providing funding for food and nutrition, education and community development projects.