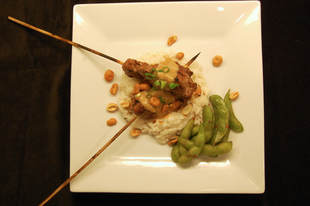 Elk Sate (Satay) with Peanut Sauce Coconut Milk Rice and Edamame
by Bobbie Jo
Wasilko
He Hunts She Cooks
Elk striploin is marinated for 24 hours, then quickly grilled and drizzled with a simple peanut sauce for a play on an Indonesian favorite. I made it a main course with coconut milk rice and steamed edamame with chili flakes and black pepper! Meats on a stick are the perfect food.

It can also be served as a buffet appetizer by placing the skewers on a bed of dry roasted peanuts along with a small bowl of peanut sauce.
Prep Time: 24 hr 15 min
Cook Time: 6 min
Total Time: 24 hr 21 min
For the Elk
1 lb Elk Strip Loin (substitute any other venison)
Marinade
1/2 cup low sodium soy sauce
1/4 cup scallions, cut into rings, including green parts
4 tbs. toasted sesame oil
3 tbs. brown sugar
3 Tbs. roasted sesame seeds
2 tbs anchovy paste (eliminate if allergic, but don't worry, it won't taste fishy)
2 cloves garlic, minced
3 Tbs. crushed red peppers
2 tbs. dried onion flakes
1 tbs. onion powder
1 tsp. ginger powder
Peanut Sauce
1 cup coconut milk
3/4 cup peanut butter
1 large jalapeño, seeded cut into small mince
3 garlic cloves, minced
1 tbs. minced fresh ginger
3 tbs. hoisin sauce (black bean paste)
2 tbs. low sodium soy sauce
2 tbs. sesame oil
1 tbs. brown sugar
Juice of one whole lime
1/2 cup chopped green onions, divided in half *reserve half for garnish
** 1/2 cup dry roasted peanuts for garnish, (may be eliminated)
For the Elk
Cut the elk strip loin into one inch wide pieces three inches long and set aside in a large glass baking dish or in a zip lock bag.
For the Marinade
​Mix all the ingredients and pour over the elk strips.
Marinate for 24 hours.
Pre-heat the grill to 350º-400ºF.
Thread the elk strips on on the top end of a skewer.
Place the skewers on the grill for 1 minute per side.
DO NOT OVERCOOK.
Serve the peanut sauce overtop or in a small bowl.
For the Peanut Sauce
Mix all the ingredients and drizzle over meat after cooking.
Refrigerate if not using right away and re-warm slightly just to bring to room temperature.
*Don't be concerned if the peanut sauce separates a little, this is normal, just re-mix the sauce.
Notes
​*This recipe is great for any venison, antelope, goat, duck, pheasant, domestic beef or pork, or chicken.